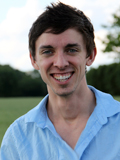 Meet our new Digital Manager
A warm welcome to Jeremiah Patterson, ONA's new Digital Manager, who is responsible for all of our websites and our e-commerce system. As Digital Manager, Jeremiah is responsible for all of our websites and our e-commerce system. Before joining ONA, he served as a web producer and content developer at The Wildlife Society, maintaining the organization's website, email marketing and other online services.
An Ohio native and media enthusiast, Jeremiah grew up with a deep interest in video production and graphic design. He attended Westminster College in New Wilmington, Pa., where he earned a bachelor's in broadcast communication with a minor in media art in 2010. He then completed a master's program in journalism and public policy at American University.
Watch the ONA12 and OJA festivities with Livestream.com
You don't have to be in San Francisco to join us for the Online News Association Conference and Awards Saturday, Sept. 22, at 7 p.m. PST, sponsored by NBC Digital News. Tune in, hear our emcee @Hari in action and winners announced on the Awards livestream.
And you can live-stream ONA12 to your heart's content all day Friday and Saturday, Sept. 21-22 — all keynote sessions and all four tracks will be available as they happen. Select sessions will also have audio recordings available immediately. Keep an eye on individual sessions on http://ona12.journalists.org/sessions/.
ONA Local
Find an ONA Local group near you or learn more about starting a group.
New report on News Challenge winners
The Knight Foundation released a report on the 2009 News Challenge winners looking at how to build a successful media innovation project, and includes an infographic on DocumentCloud, breaking down why it is being used by newsrooms. Also, keep an eye out for the announcement of Knight News Challenge:Data winners, taking place Thursday, Sept. 20, at ONA12, followed by a live-streamed Lighting Round presentations by all winners on Saturday, moderated by Knight's Michael Maness.
Hear the multimedia story
The Knight Digital Media Center, UC Berkeley Graduate School of Journalism Fall 2012 Multimedia Storytelling Series offers workshops led by UC Berkeley lecturers and staff, with presentations from award-winning faculty and industry leaders. Upcoming workshops include Social Media for Audience Engagement, Oct. 22-23, comprehensive training on how to leverage the power of social media and storytelling to develop audiences, trust relationships and engagement, and Data Driven Maps, Nov. 16-17, on how to use publicly available map files and data to build layered and informative maps that are easy to understand and fun to view.
Grant for reporting on disability
The National Center on Disability and Journalism is now accepting entries for the Katherine Schneider Journalism Award for Excellence in Reporting on Disability. The first-place winner will receive $5,000, for work covering disability issues on air, in print or online. Deadline is Aug. 13, 2013.