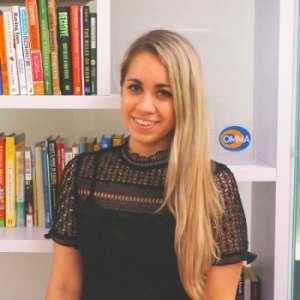 Mandy is currently an editor at A Plus (aplus.com) — a media startup founded by Ashton Kutcher — where she edits, writes and assists in managing the site's freelance team, associate editors and content syndicated to the world's most-viewed social accounts. Prior to A Plus, Mandy was Associate Editor of the Family & Relationships vertical at The Huffington Post, where she was one of the top-performing writers as measured by pageviews driven. She has published pieces with Cosmopolitan.com, The Huffington Post, Latina.com, Ladies Home Journal magazine and WHIRL Magazine. The Philadelphia native graduated summa cum laude from the University of Pittsburgh in 2013, dual majoring in English with a nonfiction specialization and Communication. She was a recipient of the Frank E. Bolden Endowment for excellence in journalism in 2012. She adores all things chocolate, crime novels and her two litterbox-trained bunnies.
Recent Work
http://www.huffingtonpost.com/2014/02/14/how-we-met-love-stories_n_4790386.html
I'm all about User Generated Content. While working as an associate editor at the Huffington Post, family and relationships section, I conceptualized, spearheaded and created a UGC piece telling parents' love stories. I reached out to the HuffPost Parents community through social call-outs and sifted through hundreds of adorable love stories. Through these submissions I was able to compile a diverse piece featuring text and images that told the story of love (and its many forms) before the kids came along. Not only did the community respond positively, but the greater message had been received: You shouldn't lose sight of the love for your partner when you have a family. Plus, it made a fantastic and timely Valentine's Day post.