The Online News Association is pleased to welcome Kelsey Proud as the organization's first Learning Director. Kelsey is an experienced editor, trainer and strategic consultant. Her inspiring career has involved developing journalism across platforms, engaging communities in new ways and coordinating newsroom training.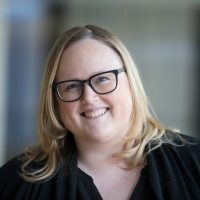 As the Learning Director, Kelsey will oversee the strategy and implementation of innovative training and community engagement activities. Her portfolio will include ONA's annual conference, the Women's Leadership Accelerator and a range of in-person and virtual events.
"I'm thrilled to be part of an organization that's given me so many opportunities in my career," said Kelsey Proud. "I look forward to supporting the evolution of ONA's strong programs and fostering new ways to collaborate with partners to help journalists meet moments, navigate challenges and serve their communities."
Kelsey brings significant project management experience and familiarity with training and support for diverse journalism communities. She most recently led a team of digital journalists as the Managing Editor of Audience for WAMU 88.5 in Washington, D.C. Before that, she served in digital innovation and management roles during a six-year tenure at St. Louis Public Radio. Passionate about building a more inclusive industry, she has volunteered as a mentor for Next Generation Radio and Public Media Women In Journalism, among other programs. Now as Learning Director, Kelsey will contribute to ONA's efforts to provide industry-leading training, networking and resources to digital journalism leaders throughout the year. She will also create a formal training curriculum that guides the development of new opportunities through ONA.
Kelsey's first day is Monday, Dec. 13, and she will report to Chief Knowledge Officer Trevor Knoblich.
---
The Online News Association was founded in 1999 as a forum for digital news pioneers to collaborate on common challenges and encourage the highest journalistic standards. Become an ONA member or make a donation to sustain our mission to inspire and support innovation and excellence in digital journalism.
To learn about the latest training opportunities and resources from ONA, subscribe to the ONA Weekly newsletter and follow us on Twitter @ONA.
To explore partnerships, promotional opportunities and other ways to invest in ONA's programs and events, contact Chief Strategic Partnerships Officer Jessica Strelitz at jessica@journalists.org.