Fifty local journalism community leaders gathered together before ONA17 for the second ONA Local Leaders Summit, a meetup for group organizers from across the ONA Local network (and around the world!) to connect and talk about issues facing their communities.
We kicked off the afternoon by addressing ways local journalism is leading the way on building trust with communities, in an open discussion led by Ashley Woods of ONA Detroit and the Detroit Free Press, Diya Chacko of ONA LA and the Orange County Register, Ernie Ting of ONA SF and CivImpact Labs and Steve Myers of ONA New Orleans and The Lens. We touched on determining and setting goals for what's meaningful about building trust, the power of local news organizations to prove they are present in the community and understanding what permissions the audience gives the news brand in its coverage—do they expect only local news coverage from a specific publication, or do they expect a lens on national news as well?
The local journalism leaders in attendance chimed in with examples of challenges, discussions and experiments going on in their newsrooms on this issue. ONA Nashville's Ayumi Bennett created sketchnotes from the conversation. (You can also watch Bennett creating her sketchnotes thanks to the ONA17 video team!)
ONA Local leaders also gave lightning talks on what they're learning about leading local journalism communities, from building partnerships to lessons learned from specific event formats: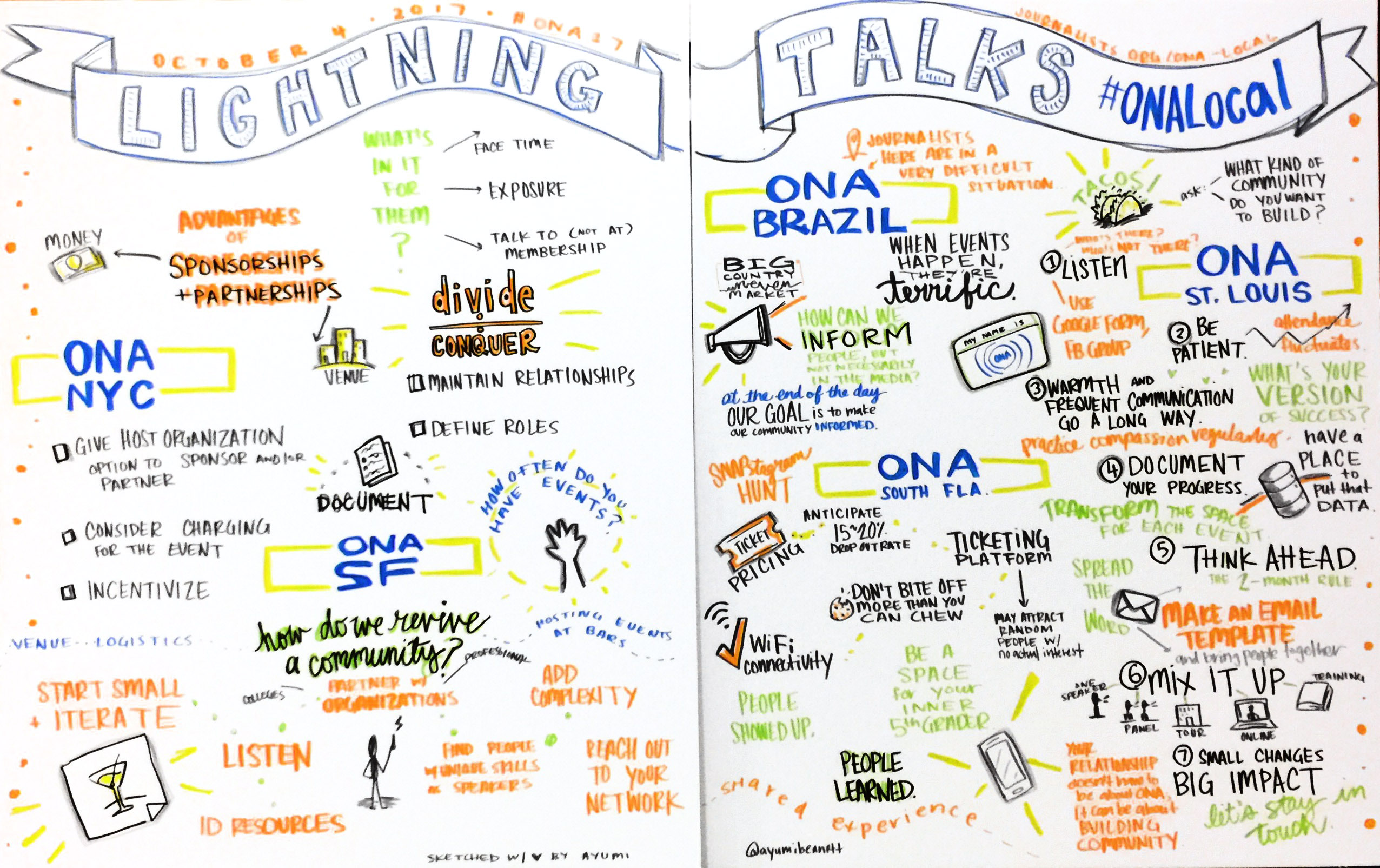 Pitching partners and sponsors
Your group's strength can be multiplied by partnering with other local organizations and securing sponsors in the community. ONA NYC encouraged leaders to think about what each organization would be interested in. Are partners interested in the inclusion of their logo or a link to their available job listings in written promotional materials? A short introduction to the group at the event?
Start small and iterate
When ONA San Francisco was reviving their community, they started with a few small events and iterated from there. They looked to the unique talents of community members with an eye to who would be able to present their knowledge at later events.
Divide and conquer
ONA NYC designates one person to be the point of contact for each partner they bring on board, and that person is responsible for all communication and sending a thank-you note after. They keep a list of the potential partners they've spoken to in case they can work together again in the future. ONA St. Louis keeps their leadership roles informal, so they can step in and complement one another where needed. They also have a rule that when they get together outside of events, they don't talk about work!
Mix it up
All the groups talked about creative approaches they've taken towards events. ONA San Francisco held a session in which a group of speakers each led a concentrated breakout workshop with hands-on activities about newsroom diversity. ONA St. Louis has had a variety of speakers in different formats, including a newsroom tour, a Skype session, individual and lightning talk presentations. They change the setup of their venue according to the topic as needed. ONA Brazil, in a large, uneven journalism market, focuses on informing their community and hosts events less regularly but focuses energy on making them bigger when they do happen. And ONA South Florida took advantage of some buzz around a new museum opening to host a Snapstagram scavenger hunt, where they challenged participants to explore the museum and complete Snapchat and Instagram Story tasks along they way.
Warm and frequent communications go a long way
The ONA St. Louis team said it best when discussing hospitality. They think about all the ways they can make the community feel welcome, whether it's their first event or their tenth. They let people get food in the beginning and give them breaks to talk to each other, and everyone cleans up the space together at the end of each event.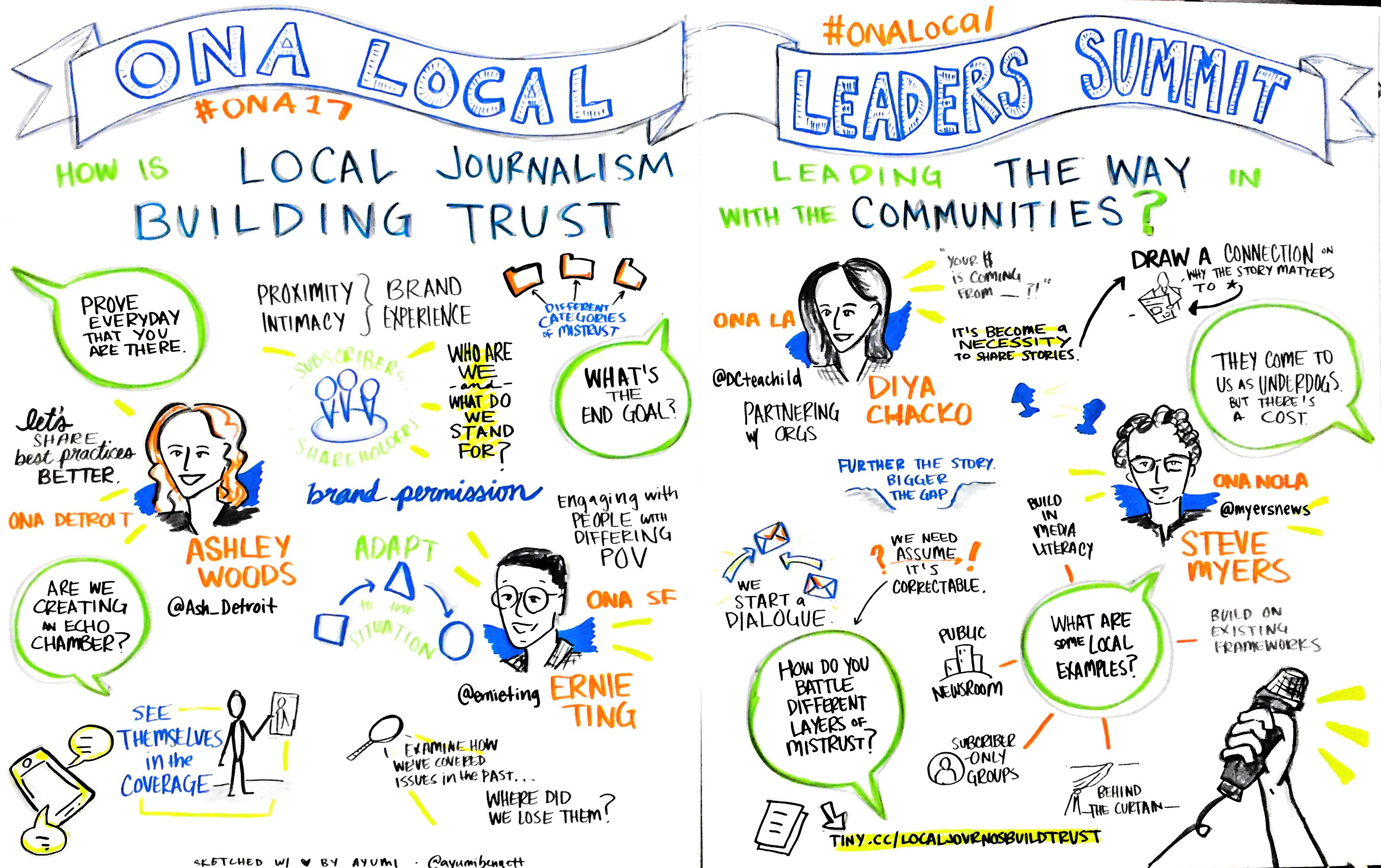 Want to be an ONA Local leader? You can start a new group in your community or join the leadership team for a group near you. When you're ready to get going, fill out our new organizer interest form and we'll be in touch.