Journalist and digital media entrepreneur Mark Little, whose work has bridged legacy newsrooms, startups and social platforms, will discuss opportunities for newsrooms to proactively create models of trust as the closing keynote speaker at the Online News Association's day-long event in Dublin on May 19.
In a time when news organizations, entrepreneurs, tech companies, technologists, research institutions and more are working to combat fake news, Mark will focus on how newsrooms can develop more transparent and meaningful engagement with our communities — in a way that can create value for everyone participating. Mark founded the world's first social news agency Storyful, which pioneered new models of verification and collaboration. He was most recently Twitter's VP of media partnerships in Europe and is now exploring new business models to sustain trust in journalism. He started his career as an award-winning foreign correspondent and TV anchor for Irish public service broadcaster, RTE.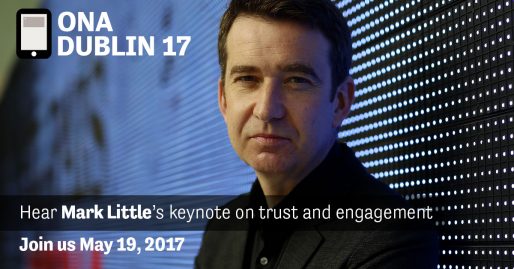 ONA's conference, to be held at Facebook's EMEA headquarters in Dublin's Silicon Docks, will focus on push alerts, revenue, video strategy, immersive storytelling, analytics and other top digital journalism trends. Opening keynote speakers Anne-Marie Tomchak, UK Editor at Mashable, and S. Mitra Kalita, Vice President for Programming at CNN Digital, will be joined by presenters from Bloomberg, BBC, CNN, The Financial Times, Mashable, RYOT and more.  
Our intimate event will include demos and Q-and-As with several of the world's leading tech companies. We'll have plenty of networking breaks to chat with fellow senior-level digital media leaders from across Europe and around the world during breakfast, lunch and tea service. The day will conclude with an attendee-only networking cocktail reception at Storyful's headquarters, a short walk from the ONA venue.
There are limited tickets still available for this ONA event, the world's largest digital journalism organization's first-ever day-long event in Ireland. Register for ONA Dublin today and be sure to join us for the opening evening reception at Google's EMEA headquarters in Dublin on May 18.