This post was contributed by Jim MacMillan, the assistant director for external affairs at the Temple University School of Media and Communication
Journalists from leading Philadelphia newsrooms gathered recently at the nation's oldest press club to learn about an innovative new reporting project addressing one of the nation's most intractable challenges: prisoner reentry.
The Philadelphia Reentry Reporting Collaborative launched late last year, bringing together a broad spectrum of news organizations to examine evidence-based responses to challenges facing local citizens returning from incarceration.
"The project itself is a bit like a jazz performance, showcasing each organization's focus and voice as it builds to an encompassing whole," said Sabrina Vourvoulias, who served as project editor from last fall's launch until recently.
The project site, reentryreporting.org, now hosts nearly 100 articles that cover topics from job training and employment to treating addictions and expunging criminal records. Visitors can also subscribe to receive a free weekly email newsletter.
"The collaborative is really groundbreaking in that it brings together some 15 diverse media organizations in the same city to explore solutions to some of the thorniest issues of reentry," according to Vourvoulias, who left to join NBC10-Telemundo 82 in Philadelphia.
The initiative is funded by the Knight Foundation and the Solutions Journalism Network, which supports rigorous reporting about how people respond to problems and has been advising the project since its inception.
"Partnerships must be grounded in relationships of mutual respect and trust," said Jean Friedman-Rudovsky, who led the planning committee last summer and recently moved into the role of project editor. "Putting together a collaborative project is time-consuming — lots of one-on-one meetings and, at times, slow progress."
"ONA is one of the best safe spaces where journalists from lots of different organizations can come together — exactly the goal of the collaborative."
Friedman-Rudovsky previously trained local journalists in her role leading the Philadelphia chapter of the Solutions Journalism Network.
Others who attended the event at the Pen and Pencil Club shared their thoughts on collaboration, the logistics of working on one topic over time, and the sheer scope of the project.
"ONA is one of the best safe spaces where journalists from lots of different organizations can come together — exactly the goal of the collaborative," said Chris Wink, editorial director at Technically Media and leader of ONA Philly.
The multifaceted nature of the effort struck Eric Ulken, managing editor for digital operations for Philly.com, The Philadelphia Inquirer and Philadelphia Daily News.
"It crosses multiple beats — including education, business and criminal justice — and serves multiple audiences, including some that our organization struggles to reach," Ulken said. "It's the kind of issue that perhaps can only be adequately covered through a collaboration like this one."
Reporter Dominique "Peak" Johnson called the collaborative a "breath of fresh air." Philadelphia's BillyPenn.com recently added Johnson to their staff on a Knight fellowship through which he will contribute reporting resources to the reentry collaborative over the next year. "In a time where the industry is struggling, it's great to know that there are journalists still focusing on issues such as reentry that may go uncovered otherwise," he said.
A strong presence within each organization and an intense branding effort will lead to a greater presence in the city and region, "and hopefully in the hearts and minds of both readers and civic leaders," according to NBC Philadelphia writer and editor Brian X. McCrone. In 2015, McCrone served at Philly.com as editor of The Next Mayor project, Philadelphia's most recent notable citywide media collaboration.
"And that's just on the journalism side," Vourvoulias added. "Now, add content being produced in two languages, over multiple platforms, by public, community and mainstream media producers, and what you have a fantastically rich way to reach people and communities across Philadelphia."
"But this is also exciting work, critical at this moment in time for our industry," according to Friedman-Rudovsky. "When done well, it allows individual reporters and editors to improve their craft and expand their horizons, and gives audiences new perspectives on important issues."
A recent Neiman Lab post took a closer look at the collaboration, noting the diversity of the member organizations.
The Temple University School of Media and Communication is providing operational support, and five students from the Department of Journalism are serving as interns. Last year, Temple announced the creation of the Steve Charles Chair in Media, Cities and Solutions, "designed to support and study a solutions-based approach to journalism and media, aimed specifically at making a positive difference in urban environment," according to Temple Now.
The Philadelphia Online News Association meetup group has rich program on deck for 2017, thanks to expansion efforts led by Wink and a recent visit by ONA Community Manager Meghan Murphy.
The community also gathered recently at the offices of Philadelphia Media Network to learn about the work of the Institute for Journalism in New Media and its mission to cultivate sustainable journalism business models.
---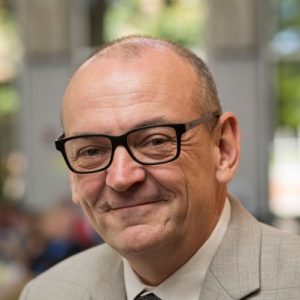 Jim MacMillan is the assistant director for external affairs at the Temple University School of Media and Communication, where he also leads the Center for Public Interest Journalism and supports Open Data Philly and the Philadelphia Reentry Reporting Collaborative. MacMillan is a Pulitzer Prize-winning photojournalist and has also served as the Journalist in Residence at Swarthmore College and as an Assistant Professor in Convergence Journalism at the University of Missouri. From 2012 through 2014 he led the Gun Crisis Reporting Project, an award-winning nonprofit organization focused on solutions to gun violence in Philadelphia.