This is one in a series of blog posts from the MJ Bear Fellows, three journalists under 30 selected each year who are expanding the boundaries of digital news. This is the first post from our 2015 Fellows. Learn more about the MJ Bear Fellowship.
---
What do all users who access content on mobile have in common?
A mobile device.
OK, it's a bad joke… and it's also a fact so obvious that it really shouldn't have surprised our team at WNYC's Note To Self when we started a project to ask how much time people were spending with their mobile devices, 20,000 people signed up.
Launched in January 2015, the project, Bored and Brilliant, aimed to gather data about what happens to our brains when we spend so much time staring at a mobile device. It consisted of participants downloading an app to figure out how much time they were actually spending on their phones, trying a sequence of challenges issued via email and our podcast, and if they chose, letting us know how it was going throughout the duration of the project.
Our inbox exploded. As the team member at the audience motherboard, my phone exploded too. It was exciting, intense and the kind of thing we knew we were absolutely going to do again – but smarter. People were excited about Bored and Brilliant, but they didn't really have a place to channel that excitement after the week ended.
So we set out on a new project with a few goals in mind:
we wanted to continue to talk about digital overload, since it's clearly a challenge for many people (our host, Manoush Zomorodi, is even writing a book coming out next year on the topic)
our community should be able to participate on their terms, when they wanted to participate
the project should live longer than just a month; in other words, it should have a meaningful afterlife
So our next project, launched in January 2016, was Infomagical, an effort to help reduce information overload and find focus amid all the noise. As Manoush put it, we built a series around a more specific idea: "This time it's not about your gadgets per se, it's about all the stuff on them … all the stuff coming out of them."
This week, we're taking some of what we learned from Infomagical, and we're doubling down on a few strategies we hope will result in ongoing engagement. Here is what we're doing:
Framing the Project as Part of an Ongoing Conversation
From the beginning, we thought of Infomagical as a direct response to the members of our audience (and, um, ourselves) who said "OK, we can't really put our phones down and still function as productive members of modern society."
So what could we do to use our phones better? We went to our core audience – many of whom had found us during Bored and Brilliant – and asked them to answer a series of questions through our newsletter and a call out on our weekly podcast. This came months before the project launch, and it gave us specific themes, voices and insights into the respondents who care the most, so that we could make content to meet their needs.
"This time it's not about your gadgets per se, it's about all the stuff on them … all the stuff coming out of them."
This wasn't just an exercise in audience building (though it was that, too). It was also our way of signaling that we're listening year-round, not just during the big sprint of this particular series.
Building in Responsiveness
This time around, we gave listeners the option to participate in challenges through either email or text message. Part of the reason? Our texting system – built by WNYC's John Keefe and Alan Palazzolo (more about that here) – can respond to users based on a pre-planned script that we don't necessarily have to monitor in great depth. We ask them questions via text and respond based on their answer, Choose Your Own Adventure style. This doesn't mean we're ignoring tweets or heartfelt emails – far from it – but we are giving our audience something inherently responsive beyond a single human.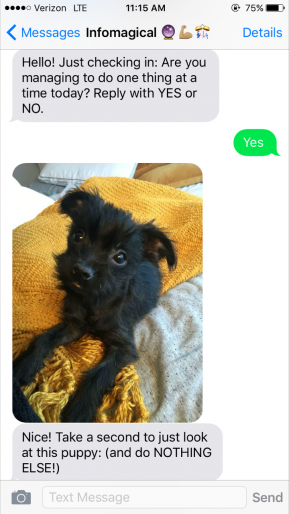 Guessing at Pain Points
Another version of this thinking: Predicting, pre-answering and responding to big questions in a regularly updated FAQ, which we link to just about everywhere. We keep count of how many times certain problems or questions come up, and then either adjust the product or write out the answer publicly. It's probably the biggest time-saver of all of these tips.
Investing in a Landing Page
Home pages are dead. We know. But landing pages uniting discrete pieces of content with a through line, a clear call to action, evergreen-ish text and no visual clutter so that we don't have to explain the whole thing every time we talk about it and / or someone searches for it are, if nothing else, saving us some work.
Case in point: compare what Bored and Brilliant looks like a year and a half later with what Infomagical looks like.
Break Projects Into Different-Sized Pieces
Participating in the original Infomagical week – five mini podcasts plus two big ones, challenges and numerous calls-to-action, is a big lift. It can be overwhelming, which makes a project about being overwhelmed a difficult sell. So this week, we're putting out a mini-challenge with a different framing and an update or two. It's called Infomagical Bootcamp, and it condenses some of the challenges into a single listen. We released it on our usual podcast drop day and we're paying extra close attention to feedback (sign-ups, questions, bursts of enthusiasm, complaints, the works) for the few weeks following.
We're hoping it lowers the bar to entry a bit for new listeners, and encourages the enthusiasts in the bunch to re-engage with us.
Good morning! You are going to have a VERY productive day. Then you're going to GTFO and go home. https://t.co/GyOQ9gerzd #infomagical

— Note to Self (@NoteToSelf) June 8, 2016
Rewriting Calls to Action
If we had all the time in the world, we'd build a new set of challenges and texts every week. But the reality is, we're a small team still making new shows, and we can't be in full update mode all the time. So, for our mini-summer relaunch, we rewrote a few of our calls to action. We don't want to waste people's time with questions we're not genuinely interested in learning the answers to, and there are so many things we want to know. Maybe even for the next project!
Because hey… we tried a version of this last summer, and the audience response led to the next big thing.
If you have more ideas, I'd love to hear them and so would the team @NoteToSelf.
---
The illustration at the top of this post is by John Hersey for Note to Self.