Nearly 200 journalists, editors, producers, designers and CEOs packed into ONA London: Audience Engagement on April 1 at Reuters UK to learn about how audiences find and interact with news. Sessions featured audience engagement experts from around the world, as well as hands-on demos that offered the chance to engage with emerging technology.
We've pulled together video, audio, presentations and live blogs so you can learn from our expert presenters and knowledgeable attendees. Video recordings and speaker resources from the sessions are only available to ONA members; audio recordings of the sessions and live blogs are available to all.
You can find the full video list and speaker resources here. Not a member yet? It only takes a few minutes to sign up and get access to these resources (and more great benefits). Annual memberships are only $75 for professionals and $25 for students. Become an ONA member today.
Opening Keynote: People You May Know: Your Audience
Reneé Kaplan, Head of Audience Engagement at The Financial Times, Mary Hamilton, Executive Editor, Audience at Guardian News & Media, and Federica Cherubini, a media consultant at the Reuters Institute for the Study of Journalism at Oxford University, kicked off our day with a conversation on how to build a relationship with your audience, offering robust insights into how Reuters collaborates internally and the Guardian works to empower editors with data.
Recorded video (ONA members)
Live blog

Click. Watch. Share. Getting Socially Engaging Video Right

Liam Corcoran, Head of Communications at NewsWhip, and Sarah Frank, Executive Producer at NowThis, offer practical tips on how to produce compelling and shareable videos. Learn what plays well on Facebook Live and how you can use create videos that work across distributed platforms and resonate with your audience.
Recorded video (ONA members)
Live blog
When News Breaks Bad: UGC in the Newsroom
Launched at #ONALondon, ONA's Social Newsgathering Code provides a set of best practices for news organizations that deal with user-generated content. Mandy Jenkins, ONA Board member and Head of News at Storyful, and Fergus Bell, News Consultant, Dig Deeper Media, discuss the code, which sets out key practices for how the journalism community should talk to and about eyewitness sources. The ethics code is "a document intended to gather the support of news and journalism organizations of all sizes around the globe to endorse a set of standards and practices relating to the gathering and use of content created by members of the public."
Recorded video (ONA members)
Live blog
It Just Got Personal: Engagement via Chat Apps

Learn why the Wall Street Journal cares about SnapChat and how it's building news stories for the platform from Social Media Editor Sarah Marshall, who focuses on audience development and SnapChat Discover. Sarah argues that Discover stories are like traditional broadcast or newspaper editions: they need a beginning, middle and end.
Recorded video (ONA members)
Live blog
Hang Time: How Long Does Your Audience Stay With Your Data?
The Berliner Morgenpost's Moritz Klack discussed how to create more engaging interactives for your community, focusing on how to optimize the information for mobile and the importance of finding simple ways for your audience to connect with data.
Recorded video (ONA members)
Live blog
Crowdsourcing as the Ultimate Strategic Engagement
Mimi Onuoha, co-author of the Tow Center for Digital Journalism's Guide to Crowdsourcing, led an insightful discussion about what crowdsourcing means — and, equally importantly, what it doesn't — with Tobias Dorfer, Social Media Editor at ZEIT Online, and Katerina Stavroula, freelance journalist and communications specialist. If you're looking for crowdsourcing inspiration, start here.
Recorded video (ONA members)
Live blog
Does Your Newsroom Look Like Your Target Audience?
This session looks at how women are represented in and connect with news, with insights from Elinor Shields, Head of Audience Engagement at BBC News, as dissects the representation of women in newsrooms, thanks to Olga Stern, who created Genews.io to keep newsrooms accountable for gender balance.
Recorded video (ONA members)
Live blog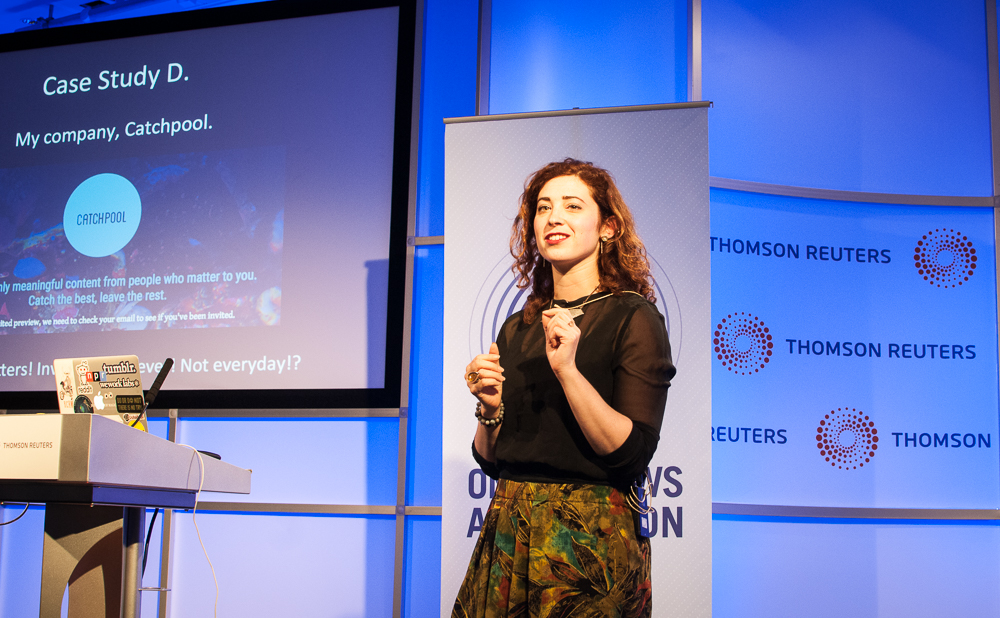 Reaching Unexpected Audiences With New Platforms
Looking for a guide on how to move to new platforms? Catchpool's Erica Berger has you covered. Get useful tips on how to reach new audiences by experimenting while staying true to your own identify on new platforms.
Recorded video (ONA members)
Live blog
Knocking Down the Language Barrier
Reaching audiences that speak different languages is about more than choosing the right words– it's about understanding context and connections. Eliza Anyangwe, founder of the Nzinga Effect, and Stijn Aelbers, Humanitarian Advisor at Internews, discuss multilingual approaches, covering the migration crisis in Europe, humanitarian emergencies, terror attacks and more.
Recorded video (ONA members)
Live blog
Closing Keynote: What Journalists Can Learn from Game Designers About Engagement
In this super fast-paced and super-inspiring session, Lindsay Grace, Associate Professor and Director of American University's Game Lab and Studio, American University, outlines a number of ways that game designers approach connecting with their communities that are applicable to journalists. With a focus on empathy and experience, game design offers new ways to rethink storytelling.
Recorded video (ONA members)
Live blog