Heading to SXSW this year? We want to see you! You can catch up with ONA staff in conference sessions and at one of our favorite parties of the year.
SXSW Session
Cars vs Sharks vs Guns: Risk and Data in the News
Saturday, March 12
2-3 p.m.
Hilton Austin Downtown
Salon G
500 E 4th St
Trevor Knoblich, ONA Digital Director
Not every journalist can live every week like it's shark week. While extraordinary events like shark attacks and plane crashes make for splashy headlines, day-to-day risks are also of interest to readers but often underreported or not explained well to readers. ONA's Digital Director Trevor Knoblich will explore how journalists might better convey data, probability and risk of day-to-day hazards in our communities.
SXSW Session

Developing News Leadership for the New Normal
Sunday, March 13
2-3 p.m.
Hilton Austin Downtown
Salon F
500 E 4th St
Panel featuring:
Jim Brady, CEO & Publisher, Spirited Media
S. Mitra Kalita, Managing Editor, Los Angeles Times,
Delaney Chambers, Product Manager, The Atlantic and
Imaeyen Ibanga, Web/Video Producer, NBC News
We'll discuss how news organizations can invest in developing leadership in a fluid industry. We're thrilled to be bringing this session to SXSW, since it builds on a robust conversation about developing leadership from ONA15.
Party like a journalist: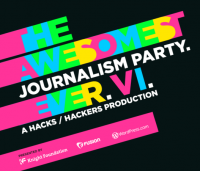 Awesomest Journalism Party. Ever. VI.
5-8 p.m.
Palm Door on Sixth
508 East 6th Street
On Sunday, head over to the Palm Door on 6th to meet up with a ton of awesome journalists at the Awesomest Journalism Party. Ever. VI., hands-down our favorite party in Austin. Every year, we connect with journalism friends and meet new people working on great projects.
This year, we've moved to a bigger venue with more space, but one thing hasn't changed: Get there early. Have an idea for a session at ONA16? This is a great time to run it by Trevor Knoblich or Jennifer Mizgata, ONA's Senior Communications Manager.