Featured Faculty Include Hearken's Jennifer Brandel, Upworthy's Amy O'Leary and ProPublica's Sisi Wei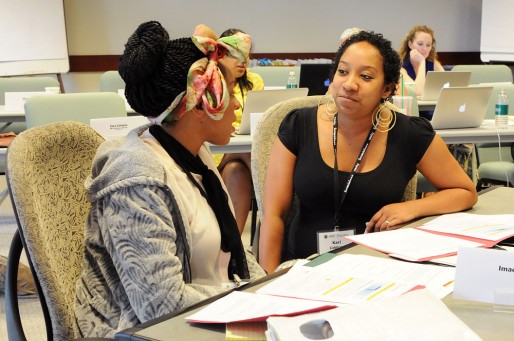 The Online News Association (ONA) and the Poynter Institute are now accepting applications for the 2016 ONA-Poynter Leadership Academy for Women in Digital Media, a transformative, tuition-free leadership program to train digital media's best and brightest women.
The week-long program will provide training and networking opportunities to 28 emerging women leaders selected from the applicant pool. Led by prominent women leaders in the startup, tech, media and academic fields, faculty will include Amy O'Leary, editorial director of Upworthy; Jennifer Brandel, founder and CEO of Hearken, and Sisi Wei, investigative journalist and full-stack developer at ProPublica.
The academy, held the week of May 1 at The Poynter Institute in St. Petersburg, Fla., will focus on leadership skills, digital project management strategies and best practices in management. Interactive training sessions will include 1-1 mentoring, outstanding networking and a supportive cohort of talented peers.
This tuition-free seminar will help women gain and polish the skills and knowledge needed to rise to the highest levels of media leadership. Classes are structured to encourage open, candid discussion, and participants will walk away with not only strong skills, but a built-in support system for the future. This year's academy, the second of its kind, will focus on emerging leaders.
Poynter and ONA both value diversity and will convene a group that represents need and diversity across ethnicity, geography, technology platforms, organization size and skill sets. Because of the small size of the class, the selection committee will give preference to applicants currently working in digital media who can demonstrate an aptitude and potential for leadership through current job title, project leadership and references, as well as a strong understanding of the digital media space.
The application deadline is 11:59 p.m. ET on Wednesday, Feb. 3. Application information is available at poy.nu/onalead16.


Apply Here


The Academy is funded through the generous support of the McClatchy Foundation, with additional support from the John S. and James L. Knight Foundation and Craig Newmark. Participants will cover their own travel costs, but a limited number of travel stipends will be available and determined once the application process is completed.
Poynter and ONA are seeking additional funding from media and technology companies, foundations and academic institutions to enhance this learning experience. For more information on providing financial support, contact Jess Strelitz, ONA Senior Manager, Strategic Partnerships, at jessica@journalists.org, or Elisa Jackson, Executive Director of the Poynter Foundation, at ejackson@poynter.org.
For more information on the class, contact Jennifer Mizgata, ONA's Senior Communications Manager, at jennifer@journalists.org, or Tina Dyakon, Poynter's Director of Advertising and Marketing, at tdyakon@poynter.org.
---
About the Online News Association
The Online News Association is the world's largest association of digital journalists. ONA's mission is to inspire innovation and excellence among journalists to better serve the public. Membership includes journalists, technologists, executives, academics and students who produce news for and support digital delivery systems. ONA also hosts the annual Online News Association conference and administers the Online Journalism Awards.
About The Poynter Institute

The Poynter Institute for Media Studies is an international leader in journalism education, and a strategy center that stands for uncompromising excellence in journalism, media and 21st century public discourse. Poynter faculty teach seminars and workshops at the Institute in St. Petersburg, Florida, and at conferences and organizational sites around the world. Its e-learning division, News University, www.newsu.org, offers the world's largest online journalism curriculum in 7 languages, with more than 400 interactive courses and 330,000 registered users in more than 200 countries. The Institute's website, www.poynter.org, produces 24-hour coverage of news about media, ethics, technology, the business of news and the trends that currently define and redefine journalism news reporting. The world's top journalists and media innovators come to Poynter to learn and teach new generations of reporters, storytellers, media inventors, designers, visual journalists, documentarians and broadcast producers, and to build public awareness about journalism, media, the First Amendment and protected discourse that serves democracy and the public good.