We're happy to announce the slate of nominees for the 2016 Board of Directors for the Online News Association.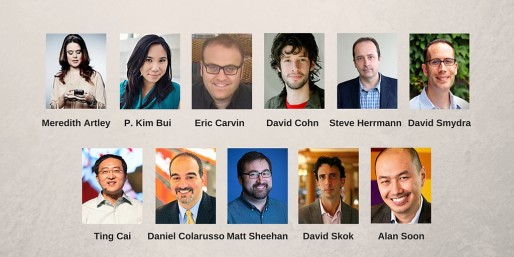 Under the bylaws, the board may be comprised of up to 15 voting members. For the 2016-17 Board term, there are seven seats open, with one seat reserved for appointment, leaving six seats open for election. Terms are for two years and begin Jan. 1, 2016.
Five new candidates and six incumbents, representing a wide and diverse range of digital media, are running.
Here is the slate; head to this page to find out more about the candidates and their vision for ONA.
New candidates
Incumbents
Learn more about the candidates
Voting will open Thursday, Sept. 24, and end Oct. 9. Winners will be announced Oct. 20. All ONA members in good standing as of Sept. 23, 2015, are eligible to vote. Renew or join to ensure your vote.
The election cycle will once again open during the 2015 Online News Association Conference & Awards Banquet in Los Angeles, and candidates also will be introduced at a Lightning Round session on Thursday, Sept. 24, to present their visions for ONA and answer questions from voting members.
During the campaign, candidates will be encouraged to use any and all social networking tools at their disposal to tell voters how they will help move ONA forward.
ONA also will be selecting and appointing a first-time non-voting Student Board member, who will be announced in the fall.
Good luck to the nominees, and, as always, we thank our members for your participation in this important process — and for being a vital part of our growing digital community.