This is one in a series of blog posts from the 2014 class of MJ Bear Fellows, three journalists under 30 who are expanding the boundaries of digital news. Apply for the 2015 fellowship here.
---
The hardest task for a small news startup — probably for most news organizations — is prioritizing. We can't do everything well, so what can we do for the highest return on investment?
That's the question I'm thinking about every day at Chalkbeat, a news startup that covers K-12 public schools in four states. A few months into my job, I was tasked with devising an engagement strategy. Everyone was doing cool stuff; I salivated over ProPublica's "Get Involved" page and praised the Center for Investigative Reporting's coloring books about earthquake safety. These were valuable examples to learn from, but I had to be realistic about our capacity and what we could achieve. We expect highly contextualized, nuanced enterprise reporting and breaking news to be published every day, and yet we only have an editor and two to three reporters in each of our locations.
Two years and many experiments later, the foundation of our engagement strategy is based on what we know works and what we think is promising. We love when our staff experiments beyond these strategies, but a clear prioritization plan helps keep things focused when we're asking our reporters to do so much.
Respond to reader comments on article threads
For some stories, it's impossible for a reporter to respond to every single comment on social media, via email and on the article pages. But we want to show readers we're listening and engaging as much as we can. So we've prioritized responding to reader comments on article threads because that's the place where the content lives. We use Disqus and hacked a way for reporters to receive an e-mail notification any time a reader comments on their stories. This is super helpful for busy reporters who don't have time to repeatedly scan the comments sections. We also put together a guide for our reporters on how to engage with readers in a comments section by pulling real examples of quotes and suggesting how we'd respond to them.
Have a Facebook strategy
As the Boston Globe's Matt Karolian says, "Facebook is huge, but feels small. Twitter is small, but feels huge." Twitter came naturally for most of our reporters, but we realized even with the little time we were investing in Facebook, it was still our biggest traffic referrer. We recognize that our Twitter followers are a loyal audience, but if we want to grow, we have to focus on Facebook. We also talked a lot about different platforms we should be using – Vine, Instagram, Reddit, the list goes on. But as a small team, no one has the time to use the platforms effectively to gather or distribute content. So we've decided to continue to do our thing on Twitter, but to make sure we have a real Facebook strategy. To me, that means thinking about what story our entire page is telling and how all our posts tie together. Connie Schultz's approach is a recent, notable example.
Establish a reader advisory board
The idea for a reader advisory board grew organically from interactions our founder had with readers, who wanted to set up a formal way of supporting an institution they cared about and relied on. Eventually we formalized the idea. A group of three to four readers come in regularly to give feedback and ask questions about the work we're producing. We've printed out our stories, handed out a copy to everyone and read them aloud together. Our readers stop us at any time when they hear something confusing or if they want to comment on the way we wrote about something. One of the coolest examples of how engaged this group can be is a member showing up to a meeting with a rubric she created to evaluate our stories: she listed the article, general impressions, what worked and what didn't and opportunities to engage readers or include reader voices.
Another purpose the reader advisory board serves is to hold us accountable to people invested in our mission beyond our board, funders and sponsors.
Hold social events
Initially, our event strategy was to hold both "content" events and "engagement" events. While content events, such as panel discussions and one-on-one interviews, were a great way to build conversation among people with common interests, we found that planning was a very heavy lift. Our happy hour-like "engagement" events, meanwhile, tend to generate higher attendance, result in fruitful conversations and are easier to plan and replicate.
So while we'd still love to throw content events in the future, for now we're prioritizing what we're calling "Chalkbeat Connects" events. We're asking that bureaus plan to have three every school year –- a back-to-school party, a holiday party and an end-of-year party. The main goal is for us to connect with our readers and for them to connect with each other, but we also want to find a way to highlight our mission and the work we do.
At one event, we had three readers share a story about the past school year in the style of The Moth. At another recent event, we previewed an upcoming reporting series by inviting two of the main sources to share their stories with the crowd. Sidenote: We charged $10/person at our most recent event — 134 people paid and 100 people showed up.
Maintain an editorial CRM
We have a CRM (the database software for keeping track of all of our key relationships) for our business team, but we recognize that a CRM for our editorial team would be valuable, as well. We considered combining the two, but couldn't find the right tool to serve both teams' needs. The goal of the editorial CRM is to track our readers, their interests and their interactions with Chalkbeat. It'll be used as a source database and an outreach and relationship management tool so we can learn more about who our readers are, what they're interested in and how we can serve them better. The goal is to deepen our engagement with our current readers and grow our overall readership. We're currently in the process of building this out using a WordPress plug-in developed by PressPoint. We also want to explore whether we can connect the plug-in to MORI, our impact tracker tool, so that we can more efficiently share our content with distribution partners.
Given limited resources, what handful of strategies have worked well for your newsroom? Also, if you're a news organization who has developed something like an editorial CRM, I'd love to talk with you!
---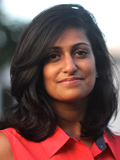 Fellow Anika Anand is Director of Product at Chalkbeat and was previously a reporter for GothamSchools. She has been published on California Watch, MSNBC.com, Salon, the New York Daily News and others. She graduated from the CUNY Graduate School of Journalism with a Master's degree in business and economics reporting and studied journalism at the University of North Carolina at Chapel Hill.