WASHINGTON, D.C. — Members of the Online News Association (ONA), the world's largest membership organization of digital journalists, elected one new member to its Board of Directors and reelected six incumbents to two-year terms.
The newest director — Jose Zamora, Vice President of Strategic Communications, Univision Network News — will join the Board Jan. 1, 2015.
"Jose brings with him a long history of news, philanthropic and digital media expertise, making him a fantastic addition to the Board," said ONA President Meredith Artley, Vice President & Managing Editor, CNN Digital, CNN, "and we're delighted to welcome back our re-elected colleagues to continue the important work of this particularly strong, united Board."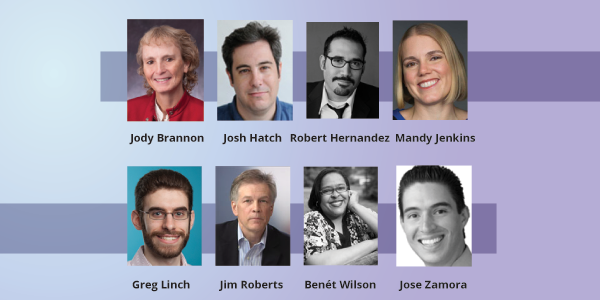 The six re-elected members are: Mandy Jenkins, Editor, Storyful's Open Newsroom; Jody Brannon, Digital Media Consultant and ONA Vice President; Robert Hernandez, Assistant Professor of Professional Practice, University of Southern California Annenberg School for Communication and Journalism; Greg Linch, Local Projects Data Editor, The Washington Post; Jim Roberts, Executive Editor and Chief Content Officer, Mashable, and Benét Wilson, Co-Editor-in-Chief, AirwaysNews.com.
A 15th seat, appointed by the Board to help meet the organization's financial goals, will be filled by Josh Hatch, ONA Treasurer and Senior Editor for Data and Interactives, Chronicle of Higher Education, who was up for re-election this year. Josh, who also chairs the Legal Committee and Online Journalism Awards Committee, "is unanimously considered an invaluable director who has moved forward critical policy for ONA, monitored our budgets and redefined excellence for the OJAs," said Artley.
Serving out their current terms are Jim Brady, CEO, Stomping Ground Inc.; P. Kim Bui, former Senior Producer, Breaking News, Digital First Media; Eric Carvin, Social Media Editor, The Associated Press; David Cohn, Executive Producer, AJ+; Jennifer Preston, Vice President for Journalism, John S. and James L. Knight Foundation, and Steve Herrmann, Editor, BBC News Online, The BBC, appointed as an international member.
Richard Koci Hernandez, Assistant Professor New Media, UC Berkeley Graduate School of Journalism, will leave the board at the end of the year.
Election results:
At the close of voting, 281 voters — representing 12.08 percent of ONA's eligible membership of 2,327 at the time of vote start — cast 1,620 votes.
Elected:
Mandy Jenkins: 166 votes (10.25 percent) (Incumbent)
Robert Hernandez: 163 votes (10.06 percent) (Incumbent)
Greg Linch: 148 votes (9.14 percent) (Incumbent)
Jim Roberts: 133 votes (8.21 percent) (Incumbent)
Jose Zamora: 125 votes (7.72 percent)
Jody Brannon: 120 votes (7.41 percent) (Incumbent)
Benet Wilson: 117 votes (7.22 percent) (Incumbent)
Other nominees:
Joshua Hatch: 111 votes, 6.85 percent (Incumbent; appointed)
David Smydra: 103 votes, 6.36 percent
Jessica Plautz: 83 votes, 5.12 percent
Jennifer Hicks: 70 votes, 4.32 percent
Bonnie Newman Davis: 70 votes, 4.32 percent
Arlene Getz: 64 votes, 3.95 percent
Rhyne Piggot: 52 votes, 3.21 percent
Emily Dressler: 51 votes, 3.15 percent
Luis Gomez: 44 votes, 2.72 percent
We thank everyone who ran and voted, and encourage active participation in choosing ONA's leadership in future elections.