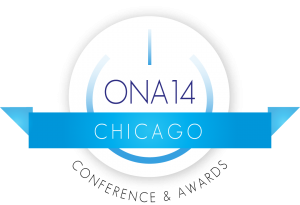 Chicago menu: Food truck rally, discounts and freebies
Chicago is a great place for people who love food. To bring some local flavor right to our door, we've organized a food truck rally outside the conference hotel for the two days when you'll have lunch on your own. And don't forget to take advantage of the nice discounts at local restaurants. Check out the menu, which includes local restaurants and snacks that you won't want to miss.
---
First-time attendee? Help is on the way
If it's your first time at an ONA conference, you're in good company. We've pulled together tips for you and our 600 other new attendees, highlighting special sessions, including an orientation and a reception sponsored by Twitter. (Conference veterans, you'll also find very useful pro tips in our first-timer's guide.)
---
The New York Times Innovation report, the sequel
Our Friday night keynote will feature three key New York Times staffers working on the next phase of the hotly debated Innovation report. Read about why the report and how it's implemented is relevant to journalists from any size news outlet.
---
The Midway: 80 trainings, pitch sessions + demos
In its third year, the Midway is growing into an exciting place for journalists to experiment and collaborate. This year's iteration features virtual reality, audio experiments, the Guardian's 24-hour hack for real-time analytics, civic engagement strategies, tracking campaign finances and more. Midway Producer Erin Polgreen pulls out some highlights from the packed Midway program.
---
Program updates: New speakers added!
You spoke, we listened: David Carson, Staff Photographer at St. Louis Post-Dispatch, joins the All Eyes on Ferguson, Mo. opening keynote panel.
Cory Haik, Executive Producer and Senior Editor for Digital News at the Washington Post, will join #failfair: Learning the Hard Way on Saturday morning.
---
2 steps to strong online identities for journalists

For a journalist today, it is important to have a strong online identity. A new development on the internet can give you a .press extension in your web address (www.yourbrand.press) ensuring that your professional identity is reinforced by your web address. Click here.

This is sponsored content from .press
---
One more important reason to be an ONA member
Voting for ONA's Board of Directors will open Friday, Sept. 26, at ONA14. Make sure your membership is up to date so you can vote on the leadership for the largest organization of digital journalists. Learn more about the candidates in advance and hear from them at the conference during Decision 2015:ONA Board Lightning Round.
Looking for more reasons to become a member or renew? We've got a full list.