ONA welcomes BBC's Steve Herrmann, new International Board appointee
ONA is delighted to announce the appointment of Steve Herrmann, Editor of BBC News Online, who joined the Board in January as our international member. Steve replaces Mario Tedeschini-Lalli, whose two-year term as our first overseas director ended in December, and who worked tirelessly to build up our partnerships and community as Chair of our International Committee.
Since January 2006, Steve has had overall responsibility for the digital output of BBC News on desktop website, tablet and mobile, in the UK and internationally. He leads a team of online journalists and also oversees content from a wide range of others across BBC News who contribute to the BBC's online, on demand and multimedia output. He is a board member of the Global Editors Network and serves on the media advisory panel of the International Broadcasting Trust. Steve also ran for election for the ONA Board in 2013. Learn more about Steve.
---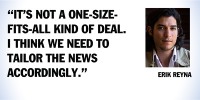 Apply for the AP-Google Scholarship
Now in its final year, the AP-Google Journalism and Technology Scholarship will award two $7,500 scholarships to undergraduate or graduate students pursuing innovative, creative projects in digital journalism.
Our two-year partnership with the Associated Press and Google is at an end, but we're fortunate to have excess funds to support two more winners for the 2014-15 academic year. The deadline to apply is Feb. 21. Learn more about the scholarship, past winners and their projects.
We're thankful to both AP and Google for supporting our inaugural program. We're looking for additional scholarship partners for the 2015-16 academic year. If you or your organization are interested, please contact Irving Washington at irving@journalists.org.
---
The Scripps Howard Foundation has honored the nation's finest journalism for more than 60 years, including digital contributions in innovation, public service, investigative reporting, human interest writing, commentary, First Amendment, breaking news, environmental reporting, community journalism, business and economics reporting and editorial writing. Staff members, freelance contributors and bloggers are eligible. Rules and entry form: 
shawards.org
. Entry deadline: Feb. 10.
This message is sponsored content by the Scripps Howard Foundation.
---
Discover 2014's top journalism trends in a free webinar
Join Chartbeat product and user experience experts on Jan. 22 as they share their thoughts on what 2014 will mean for data-driven journalism. They'll reveal data studies collected from thousands of media sites over the last 12+ months showing the shift in newsroom roles, publishers' goals, content types and performance metrics. Can't attend? Chartbeat is offering allONA members who are not currently Chartbeat clients a 14-day free trial complete with one-on-one education from newsroom consultants. Get in touch at productoutreach@chartbeat.com.
---
Awards and Fellowships
Enter your best online, print, and design work into the Azbees, the ASBPE Awards of Excellence, which honor excellence in B2B publishing. Deadline is Jan. 27.

The 

Livingston Awards

 honor outstanding achievement by professionals under the age of 35 in local, national and international reporting. Three $10,000 awards are available this year. Applications are due Feb. 1.

The American Society of News Editors is now accepting entries to the 

ASNEAwards

, which honor the best in print, online and mobile content. Entries are due by Feb. 5.

Applications for the 

2014 Donald W. Reynolds Fellowships

 are due Feb. 15 from people and institutions with innovative ideas to improve the practice or understanding of journalism, connect citizens with news and advertising more efficiently and grow revenues.

The Radio Television Digital News Association is now accepting applications for a number of 

fellowships

 and 

scholarships

 aimed at students pursuing careers in electronic journalism. Application deadline is May 2, 2014.

The National Press Foundation has announced the 

winners of the 2014 Awards for Accomplishment

, who will be honored at 

NPF's 31st Annual Award dinner

, Mar. 5, at the Washington Hilton Hotel.