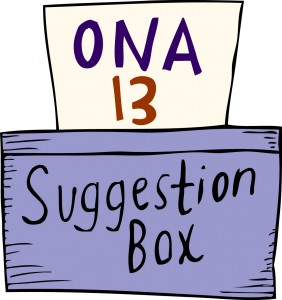 We're looking for fresh ideas for this year's Online News Association Conference, ONA13.
Each year, we bring together journalists, technologists and academics to share the most exciting trends in digital journalism.
This year, we're looking to pull in more creative ideas, and are especially interested in sessions that don't fit the traditional panel format (but feel free to submit panel ideas here as well).
What can you teach digital journalists? What have you seen or heard that might inspire us?
Submit an idea to the ONA13 Suggestion Box and it could be part of ONA13 in Atlanta, Oct. 17-19, 2013. Deadline: April 30 at 11:59 p.m. ET.
Submit an Idea
Need some guidance on what journalists are looking for at ONA13? Check out the conversations about ONA13 and journalism conferences from dozens of journalists on Branch.
We'll be posting submissions on the ONA13 Suggestion Box Tumblr this year. Feel free to weigh in on which sessions you like best with a "like" or a reblog. While we'll be watching which ones get the most attention, we won't take an official vote count this year. Check back often for new proposed sessions.