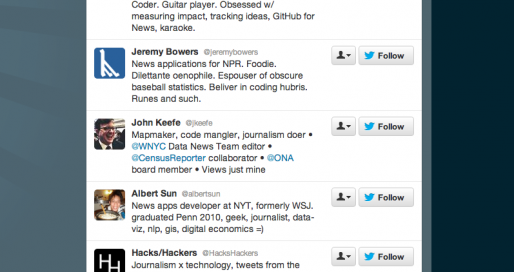 Forget the saying. Jacks-and-Jills-of-all-trades are, in fact, masters of one: the agile education. The ability to learn quickly is obviously helpful in all contexts, but it is becoming essential in the world of data journalism.
Nearly every week there is some new hot data visualization tool, social networking service or productivity application to speed up processes. Those who have the ability to stay on top of these rapidly changing technologies have an immense advantage in the job market. To be a successful computational journalist, you need to have an affinity for shiny things.
It would be a hopeless task to know the ins and outs of every piece of technology related to journalism — especially while excelling at school or a full-time job. The only way to stay up to date is to learn by doing.
As an exercise, I'll piggyback on one service we're hopefully all using by now: Twitter. I've been curating a list of some of the most keen-eyed data journalists around. Take a Sunday afternoon and see what these geniuses are up to, and try to follow along. I've found out about a number of tools I use every week this way.
Once something looks appealing, try to use it. If it's a visualization tool, create a quick graphic on something in the news. If it's a programming framework, work through a tutorial. A new app to help clear your inbox? Give it a quick whirl.
When you've figured out the basic idea of the tech, think about how it might help you. Maybe it will fit right into your workflow.  Maybe it won't. It might not even be applicable to your job, or not a solution for a problem you have. If nothing else, you'll know enough to be able to have a semi-knowledgeable conversation about the piece of technology — and such literacy can go a long way.
The exercise may seem pointless. After all, how many times does a random link from Twitter change the way we carry out our daily tasks? When it does, a handy skill is acquired. But when it doesn't, an even more useful skill is strengthened: the agility of your education.
An agile learning style is a key ingredient for today's successful journalists. It takes effort to master, but the dividends have no end.
---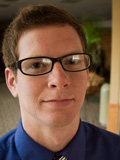 This is one of a series of blog posts from the first ONA class of AP-Google Journalism and Technology Scholars describing their experiences, projects and sharing their knowledge with the ONA community.
Kevin Schaul is Data/Web Dev Intern at @StarTribune and is joining @nytgraphics for the summer.
---