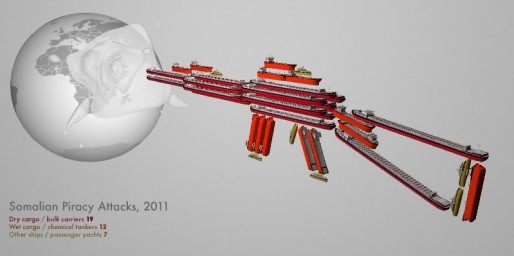 A year ago I built the above atrocity for a class project. We were learning how to use a 3-D software program. For some reason I decided it would be a good idea to form the shape of a rifle out of the number of ships that were attacked by Somali pirates in 2011.
The numbers were gleaned from a public database I had been wanting to use for a while, and the concept was inspired by the photographer Francois Robert's far superior and moving Stop the Violence project. In my final composite, some three dozen 3-D ship models awkwardly join to form the idea of an assault rifle, the tip pointing towards a globe out of which a plume of misshapen white blobs attempt to represent water splashing.
The image is altogether fairly awful.
I want to spare you a similar legacy of such cringe-inducing memoriam. The "Piracy Predicament" (as it shall be known) was a classic example of trying to push a square peg into a round hole. And all of us in journalism are very guilty of trying to do that on a daily basis.
A lot of it, understandably, is for survival. Sure, tack a photo gallery on that story to increase dwell time. Sure, change the headline to a question to motivate clicks. (Did it work for you on this one?) Sure, write the necessary, annual pieces on the importance of sunscreen in the summer and who was best dressed at the Oscars. Certain traditions are useful and certain demands are understandable.
But I wonder if the continual pressure to resort to tactics that boost clicks is making us forget what we really do well in this business. Maybe technology isn't something we shove our story into, hoping something cool will pop out. Maybe we're forgetting that writing stories we care about is an equally sure way to generate audiences.
Take show business. Entertainment news can come off as vapid amid reports of international conflicts and domestic budget battles, but it's something we turn to in high numbers as a way of escaping those greater problems. We can lament the popularity of such "low-brow" coverage, or we can ask ourselves how to channel the interest in celeb mug shots and recent breakups into something that leads us to reflect on our culture.
We start by reporting on the questions that interest us. That's the surest way to guarantee they will interest others. That's how you end up with stories that analyze the lack of racial diversity among TV guests, our increasingly critical film reviews, or how music producers craft incredible tracks. We don't have to settle for the obvious stories when readers are looking to us to ask the non-obvious questions. They don't have to be hard questions. They can just frame the same evidence in a different way, taking a step back, once you let the fear of a story bombing recede and your natural curiosity resurface.
I know this is difficult. Some days we have more control over our chaotic lives than others. If you continually find yourself writing about something you have no interest in or that bores you to tears, it's time to wrap that story up and spend 15 minutes today on one that has always fascinated you.
The reality is, it's not always going to be the pictures or the audio tracks or the quantity of coverage you offer that will drive readers to your content. It is your ability as a storyteller to tell one that you believe in. You can have great skills and top-notch training to do that, but if your heart isn't in it, readers know. Well-modeled, sinking ships are easy to spot like that.
---
This is one in a series of blog posts from the first ONA class of AP-Google Journalism and Technology Scholars describing their experiences, projects and sharing their knowledge with the ONA community.
Rebecca Rolfe is a graduate student at the Georgia Institute of Technology, working on an online interactive data visualization that depicts an evolution of Oscar acceptance speeches over the years.
---