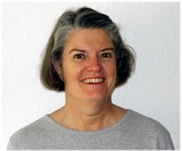 Current Location: Silver City, Grant County, N.M.
Current Gig: I own, edit, manage and post to grantcountybeat.com, a local online news source.
Quick and Dirty Resume: I had always enjoyed writing news releases for organizations, networking, taking photographs, as well as learning what was going on where I lived, including going to meetings. When I took a job as a reporter, everything fell into place. I got paid for being nosy!
Six Word Resume: Laid off; became entrepreneur; love it.
Favorite Fictional Character: Joanna Brady of the J.A. Jance series set in southeastern Arizona.
Favorite tech tool: My MacBook Pro. Desiring an iPad.

What happens during your average day?
During an average day, three days a week, I go to exercise class, attend meetings, post news releases from emails received, write articles on meetings. The other five days, I post news releases and articles I write or I receive from freelancers. Sometimes, I interview folks. I love veterans and old-timers. In between, I walk the dog, run errands, visit with my husband, read local and national newspapers, eat and sleep.
Why did you choose to get involved with online media?
Because I love being a reporter. After my layoff, I had no other local options. Print is too expensive, so I, within four days of my layoff, had my online news source up and running. It's now a little over 1 1/2 years old.
You've been a serious photographer for the last 40 years. Can you describe the feeling when you discover something that would make an excellent photo?
Light and color usually pull me into a photograph, so that I simply must press the shutter button to record the vision for posterity. I also enjoy recording journalistic photos to enhance an article. My feeling is of pleasure to record and share something that perhaps only I see in a place, a person or a moment.
You started the Grant County Beat after being laid off from the Silver City Daily Press. What made you want to continue your coverage of Grant County?
I love networking. I don't mind attending meetings. My passion is to inform the public of the facts of a situation and let them know what is going on in their community, so they can make up their own minds about whether, where and how to become an involved citizen.
Your local outlet is supported by advertising and donations, like many other local news outlets. Do you think this profit structure is sustainable?
I worry whether advertising will sustain the Grant County Beat. So far, I've been in the black and always able to pay freelancers, but I pay myself only a token amount to show I'm serious. At least one local advertiser will not advertise online, which is a disappointment to me. I feel that advertisers do not realize the benefit of advertising online and having their ads viewable 24/7, so it is an educational challenge for me and my commission-only freelance advertising reps.
If you had a million dollars dedicated to improving media, you would …
The first thing I would promote is "Just the Facts, MAM" (which is one of my nicknames locally). I constantly strive to report only what people say and the absolute concrete facts of a meeting or event. Just yesterday, a reader saw me at a meeting, and said: "Now that I know you're here, I don't have to stay." (He stayed.) I primarily take the meeting beat, although I have freelancers who also attend meetings, as it is difficult to be in two places at once or to cover more than two or three meetings a day and have time to write them up for the Beat. I'm especially a stickler for spelling people's names correctly.
It distresses me to see a reporter's bias and errors in an article. So, I would like to create an online course to show reporters how to write articles without their opinions intruding on the facts and how to include all sides of a controversial issue.
Sure, I like to read articles that match my opinion, but I'm never quite sure whether I should believe what I read or hear, because I've read and heard too many items that skew the facts to match the bias. I endeavor to put into any article that I write information that does not agree with my personal opinion if it is expressed at the meeting. As a result, I have faithful readers, who definitely lean conservative, as well as many who are on the liberal side of the spectrum. As my Silver City Daily Press editor once told me: "I must be doing something right. I have people call me and tell me I'm a (expletive deleted) liberal. Then, I'll get a call, and somebody reams me out for being an (expletive deleted) right-winger." I want people to perceive the Grant County Beat as fair and factual, and not biased.
As for a million dollars, I might find it difficult to spend that much, other than to be seed money to create a national (possibly international) money-making project and to pay for helpers to create and promote the course that would fulfill my desire to have all media return to the roots of journalism —- to report the facts, even the uncomfortable ones dug up through investigative reporting.