The AP-Google Journalism and Technology Scholarship Program fosters new journalism skills in undergraduate and graduate students developing projects at the intersection of journalism and technology. John Osborn is one of six inaugural Scholars.
---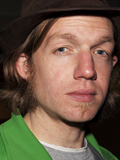 Hometown: Medford, N.Y.
Current location: Oakland, Calif.
Current gig: I'm a graduate student at the UC Berkeley Graduate School of Journalism studying multimedia and data visualization. When not hitting the books, I freelance for the East Bay Express, a weekly newspaper based out of Oakland, and I also work as an independent contractor for Dygest Inc., a company that has developed a news prediction app called Scoople.
Six-word memoir: Political Junkie. Data Nerd. Media Revolutionary.
Quick and dirty resume: Learned the grim realities of the newspaper industry after my first job at the Eureka Reporter was cut short when it folded in 2008. Jumped into the freelance foray after that. Built a website to cover the 2010 election in Humboldt County. Moved to the Bay Area in 2011 and have since worked with the East Bay Express, Bay Citizen, Patch.com, and Berkeleyside.
Favorite fictional character: Nerd Alert. My favorite fictional character is Cecil Harvey from the Super Nintendo role-playing game classic Final Fantasy 4. I was always inspired by his empathetic and kind nature, his leadership ability, and his strong sense of purpose when it came to, well, in this case, saving the world from an ancient lunar-borne demon. Crossing fingers that we will never have to face a similar fate …

Why did you choose to get involved with online media?
There are few boundaries online, and that makes online media an exciting new frontier for journalists. The only obstacle to creating content online is not knowing how to use the available tools. But once learned, journalists can dive into any medium that is available — like video, podcasting, coding or GIS — or experiment with ones that are nascent or non-existent. It's a smorgasbord of learning for those willing to brave the new frontier.
What happens during your average day?
Every day I wake up, the day before me is up to circumstance. It's one of the perks of the industry I've always loved, not knowing what adventures await on any given day. I typically turn to Twitter to catch up on what's going on, then hit my Google Reader to grab the latest headlines. Then I dive into my calendar and spend the day making calls, building content and engaging my audience.
What do you say to critics who might say news games aren't real news?
I would say those critics lack imagination, but I also understand that new media will be met with skepticism until they are proven in the real world. News games are just another tool in the tool belt, one that has the potential to tell stories or explain complex topics in an experimental and interactive way and to potentially engage a younger audience.
You were laid off from your first newspaper job. What made you stick with the journalism industry?
I'll be honest, I almost moved on. It was utterly demoralizing. But I have that reporter instinct that can't so easily be dismissed. I told myself I would do everything I could to be in as much control of my profession as possible, and it was the main reason I have been a freelance writer and photographer ever since then. It is also one of the reasons I would like to launch my own media start-up after grad school.
How can the everyday journalist incorporate some form of news game into his or her storytelling?
I see news games playing a stronger role as long-form or documentary-style pieces of work. But for the everyday journalist, allowing readers or your audience to play along with a story would be a simple way to incorporate news games. An example could be prediction-style features for 2012 election stories, or quiz games exploring a topic with more depth.
The 2008 election was historic in a number of ways. How do you think digital media will affect the 2012 election?
I think social media has played a stronger role in disseminating information about candidates and their positions, as well as allowing for direct communication between consumers of content and producers — editors, journalists and key figures. Given the decentralized nature of social media, the traditional gatekeeper role of media is being further reduced as more people are turning to social media to find their news. As a result, news is becoming more of a social experience, perhaps further reinforcing political views as a consequence.
 
You've been extensively covering the Occupy movement in the Bay area and were recently detained by Oakland police. What role has digital media played in the Bay Area for the Occupy movement?
Frankly, while many mainstream media outlets dropped the ball during the first few weeks of Occupy Wall Street, it was social media and live streaming that are the main reasons the Occupy movement proliferated at the speed it has across the country. When the majority of people at a protest are wielding smartphones, tablets or other media equipment, it creates more accountability in the actions of the police and protesters, but also in the coverage of journalists.
 
If you had a million dollars dedicated to improving media, you would …
… Start a game studio focused on reality-based games for mobile platforms.
---