The AP-Google Journalism and Technology Scholarship Program fosters new journalism skills in undergraduate and graduate students developing projects at the intersection of journalism and technology. Rebecca Rolfe is one of six inaugural Scholars.
---
Hometown: Greenville, N.C.
Current location: Atlanta, Ga.
Current gig: Grad student studying Digital Media at Georgia Tech
Six-word memoir: I'd love to hear your story.
Quick and dirty resume: J-school at UNC-Chapel Hill with professors who greatly opened my mind, one summer learning design from the amazing Virginian-Pilot staff, and three years watching online journalism explode on the mobile front with a stellar design team at CNN.com. Somehow you can't get through even a quick and dirty resume without thanking all the people who made it such a valuable experience. More than anything, major props are owed to the small-town papers and ad agencies that take a chance on newbies like me, hiring us even when our design portfolio consisted of a cut-out magazine art project held together with Elmer's glue. The first experiences are always the formative ones, and I learned so much from everyone along the way.
Favorite fictional character: Harvey, the kindest and most inspiring 6-foot tall invisible rabbit you'd ever hope to meet.

Why did you choose to get involved with online media?
It's this exciting open frontier! I have witnessed so much change within just a few years in the industry; I can only imagine what the future holds. Being a part of the evolution as we figure out how to best transfer information to and connect with the greater public is an opportunity that's difficult to pass up. I feel lucky to be a part of it.
What happens during your average day?
Is there such a thing? And would we enjoy it? Perhaps each morning when we wake up we should aim to have the most un-average day possible!
Why did you choose to focus your project on the Oscars?
The Academy Awards is more than 80 years old, and, though things have changed quite a bit in that time, the ceremony continues to generate conversation and capture our attention — and criticism. As we evaluate the performance of award winners expressing their gratitude within this staged event, we are defining the guidelines for gratitude expression within the culture as a whole. There's a rich story here that is important to us on many levels.
You don't currently have any social media profiles nor believe journalists should have any. Why?
Oh, dear. Let me clarify that. Journalists should definitely have social media profiles if it enables them to be better at what they do. Oftentimes this is the case, but I don't feel it has to be mandatory. Being plugged in to social media mustn't be a requisite to serve as a strong and capable journalist. Just as there are a myriad of ways to tell a story, there are many forms of participation and listening before you're ready to tell it. It's up to you to determine what works best as you grow within the field.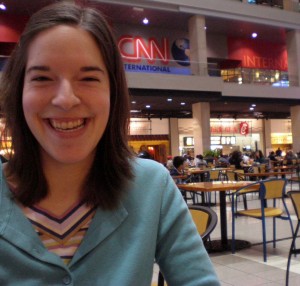 You were a designer for the CNN.com 2008 Elections Team.  What do you think has changed within data-driven journalism in those four years?
The year 2008 is often argued as the year information visualization went mainstream, in large part due to election coverage. The years since then have been a great period of growth, particularly in open data (the federal government's Data.gov, The Guardian's Data Blog, expansion of data.nytimes.com, streamlining of Census data by the Investigative Reporters and Editors organization) and mapping (Stamen's Polymaps, Development Seed's Tile Mill, Gregor Aisch's Kartograph). Getting the right data in the right format is half the battle for data journalists. We're getting better every day at communicating the stories within the data more clearly and efficiently, simply by having more sophisticated tools for analysis.
If you had a million dollars dedicated to improving media, you would …
… Spend it in education — and that's for journalists of all ages. Properly reporting the news in a way that respects our audience is something that shouldn't be determined by page counts or hampered by lack of funds. But in theory we don't need a million dollars to move forward. If you have been in the field a while, you are not out of touch simply because you don't Tweet (see social media answer above). If you're just getting started, you are not behind because you have no experience — your ideas are invaluable. We're all in this together and absolutely must share what we know so we can grow and better serve our public. That's an action we can all take no matter who we are, and it's an action on which you cannot put a price.
---