ONA

joins Reporters Committee, news orgs in asking Supreme Court for audio, video coverage of health care reform arguments
The Online News Association has added its name to a letter from The Reporters Committee for Freedom of the Press to U.S. Supreme Court Chief Justice John G. Roberts, asking the Court to allow audio and video recording of upcoming oral arguments in the three cases involving proposed federal health care legislation.
"Because the health care reform law deeply affects millions of Americans, there likely will be a strong interest nationwide in closely following the proceedings as, or shortly after, they occur," the Reporters Committee letter stated. "As such, the Court's current policy of releasing audio recordings of arguments at the end of the week will not adequately satisfy this strong public interest in being timely informed of important developments in a matter of such overwhelming impact on such a widespread scale."
The letter also noted that delaying the release of argument recordings "will impede journalists' ability to provide same-day coverage of the arguments." Read the full Reporters Committee letter and list of partner media organizations here.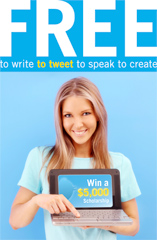 Students, feel 'Free to Tweet' to say Happy 220th, Bill
The Knight Foundation, the First Amendment Center and 1 for All campaign will celebrate the 220th birthday of the Bill of Rights Thursday, Dec. 15, with a panel discussion on the role of social media in shaping teens' sense of First Amendment principles, a sung performance of the Bill of rights and the launch of a new teacher's guide on using social media to teach the First Amendment. Students aged 14 to 22 can join the "Free to Tweet" (#FreeToTweet) campaign that day from 12:01 a.m. ET to 11:59 p.m. PT and be eligible to win one of 22 $5,000 scholarships, funded by the Knight Foundation. Read about the campaign at freetotweet.org.
News folks, spread the word about the 1 for All campaign: You'll find both web and print ads like this one here.
Five newsrooms worldwide will host Knight-Mozilla's tech fellows
Al Jazeera English, The Guardian, BBC, Zeit Online and The Boston Globe will play host for a year to five developers, designers and programmer-journalists selected and funded by the Knight-Mozilla News Technology Partnership, which launches early next year. The goal is to produce solutions to digital challenges and create open-source code.
Apply now: Grants, awards and fellowships
Ladies, start your start-ups
J-Lab has been awarded $250,000 from the McCormick Foundation to fund eight innovative women-led news startups over the next two years. In 2012, four winners will each be given an initial $12,000 to launch their ideas. The winners will receive an additional $2,000 in the second year if they match it with $2,000 from other sources. Proposal deadline is Jan. 27, 2012. See guidelines and apply here.
Punch Sulzberger Leadership program open
The Columbia School of Journalism is seeking applicants for its high-end Punch Sulzberger News Media Executive Leadership program, which helps executives meet the challenges they are facing in sustaining the value and values of their media organizations. Deadline is Dec. 10. Read more information here or contact Arlene Morgan, associate dean, at am494@columbia.edu or (212) 854-5377.
Knight-Wallace Fellows at the University of Michigan open
The Knight-Wallace Fellowship is designed to broaden perspectives, nurture intellectual growth and inspire personal transformation. With no deadlines, exams or papers, a monthly stipend, plus all tuition and fees paid, a Fellowship frees you to explore the expanse of scholarship available at the University of Michigan. Spouses are an integral part of the experience and are invited to participate actively. Full-time journalists in any media with five years experience may apply. Applications must be postmarked by Feb. 1, 2012. For more information, contact kwfellows@umich.edu. Learn how to apply here.
Entries open for 2011 Livingston Awards for Young Journalists
The Livingston Awards for excellence by professionals under the age of 35 are the largest all-media, general reporting prizes in American journalism. They are also unusual in judging print, broadcast and online entries against one another, a practice of increasing interest as technology blurs traditional distinctions between rival branches of the profession. Three $10,000 prizes for local, national and international reporting are conferred in person by the judging panel at a New York luncheon. Judges include Christiane Amanpour, Ken Auletta, Dean Baquet, Charles Gibson, Ellen Goodman, John F. Harris, Clarence Page and Anna Quindlen. Deadline for entries is Feb. 1, 2012. See more information and download entry forms here.