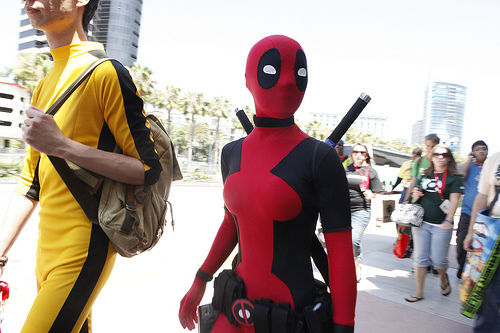 (Image via Jon Snyder for Wired.com's Flickr Stream.)
These days, I hang out with a lot of nerds and a lot of journalists. (In many cases, these two groups overlap.)
Last month, I attended New York Comic Con, the annual convention which drew 95,000 people last year to celebrate their love of comics, gaming and anime. While I wandered around amid the costumes and enthusiasts, I wondered: Why isn't there anything on this scale for news junkies? Has the public really lost its appetite for news content, or are we failing to stoke demand? From what I observed, here's how news orgs can take a page from the world of fandom.
1. Fans want to see, meet and greet the creators.
Bylines are humble things. But surely no less humble than a video game credit reel, one that most players skip past in their haste to start playing.
I attended a preview screening of Batman: Arkham City and was amazed at how more than 300 fans filled the room to squeal at Kevin Conroy, the voice of Batman on the animated series. Claudio Sanchez, a musician who did one of the front tracks for the game, and Sefton Hill, the Game Director, were also well received. And they weren't alone — all Comic Con, fans mobbed their favorite creators and writers, paid attention to interesting up and comers and showed up at panels like "How The Web Comic Publishing Sausage Gets Made." Fans in geeky industries are enamored with content creators — why would fans of great journalism be any different?
2. Reward the fans with previews and insider access
Working on a big package? Why not tease your readership with a few demos? Fact-gathering is a far tricker business than creating fictional works, but after all the facts are assembled in your story, consider releasing tidbits, teases and shorter multimedia projects. In the news world, we wait until every aspect of the story is done, then present the entire package as part of the daily news cycle. Unfortunately, this means that months of work will only survive in the news cycle for a week, max, before fading away in the wave of other stories and controversies.
The gaming world is different. At the presser for Final Fantasy XIII-2, mobs of fans gazed appreciatively at behind-the-scenes sketches, a rich introductory video of the actual game play, and character design sketches. The game isn't finished yet, and it will not debut until January 2012. But the gaming world keeps players enticed and excited by continually providing them with bits of information. The tease starts well in advance of the release date and continues all the way to the launch. While news and games don't directly overlap, it's worth looking at ways in which we can reframe how we present all the data and information we gather. Maybe we can't release police sketches of crime suspects or start a betting pool on political candidate drop-out dates, but we can figure out the journalistic equivalent of an amuse bouche.
3. Hold accessible forums on the nature of your industry.
Journalism seemingly has no end of conferences to attend — we can talk about technological innovations or the glory days. I could attend a conference that caters to professional affiliations. However, I notice that these conferences may as well have a sign that says "professionals only." Outside of students, there aren't many people who are just casually interested in journalism at our events — either the word isn't getting to them, or our price points are prohibitive to casual fans. Poynter created an interesting space by leveraging the buzz around the TEDx programs, and The Newseum in Washington, D.C. hosts many publicly available conversations about journalism. Perhaps it is time to rethink how we communicate with news consumers.
4. Focus on the amateur-to-pro pipeline.
Citizen journalism has changed the game, with everyday folks suddenly empowered by camera phones and the internet to break news on their own. Maybe journalism could benefit from taking a page from comic conventions, where for years, professionals and amatures have mingled and swapped stories about their love of the form. This year's convention even featured a panel on keeping up with new fans and showing they are appreciated. And for good reason.
At last year's WonderCon, comic artist Gene Luen Yang (author of American Born Chinese and winner of the Eisner and Printz awards) noted that in comics, the line between professional and amateur is not only blurred, but porous. While there are a couple of conferences that deal with citizen journalism (like this one sponsored by Sakai, or this panel at the National Conference for Media Reform) but not much in place for journalists and fans to mingle. Creating that kind of interaction may help re-anchor journalism as a vital part of public life and conversation — and help would be media makers appreciate and access the full process.
---
"What Journalists Can Learn From" is a series dedicated to exploring knowledge from worlds outside of journalism. Think of it as a space to cross-pollinate ideas. Have an industry, group, or organization you'd like to see profiled? Contact Latoya Peterson at lpeterson@journalists.org.