Don't wait until the last minute — enter the OJAs today
The deadline to submit entries to the Online Journalism Awards is June 27. For details and to submit entries, go to journalists.org. Many thanks to those who joined the conversation at #OJA2011 by suggesting the best digital journalism of the year.
ONA11: The next level
The next phase of early-bird registration for the 2011 Online News Association Conference & Awards Banquet is now open. Be sure to register by July 31 to get the member conference rate of $499 ($799 nonmember) and book your room here. August — and a higher registration rate — will be upon us before you know it.
ONA Local
ONA-SPJ Seattle: Join us on June 23 at 7 p.m. for a conversation with Ian Lurie of Portent Interactive about the art of SEO — search engine optimization — and why it matters for your next story. Bring your questions about white-hat SEO, social media, SEO tactics and more to Jillian's on Westlake. For more details and to RSVP, head to meetup.com.
#ONASF: Nathaniel Vaughn Kelso and Shawn Allen of Stamen Design will share the latest in data visualization and cartography at the June 28 meet-up from 6:30 – 8:30 p.m., co-sponsored and hosted by KQED. Nathaniel, who recently joined the studio from The Washington Post, will highlight his projects, including live election results mapping, a deep dive into the decennial census, and narrative entry into an investigative piece. We'll also review two projects from the studio: One.org data report and Dotspotting, a project funded by the Knight News Challenge. RSVP at meetup.com.
@ONANYC: Meet new folks, grab a refreshing drink and learn about jobs and events. Mark your calendars for June 29 at 7 p.m. Event location to be announced soon. This will be ONANYC's one and only summer meet-up, so be sure to join us for great networking. And don't worry — we will be back in full swing for September! For updates on location and to RSVP, head to meetup.com.
#ONADC: Join the Washington, D.C. staff of Huffington Post Media Group for an al fresco social gathering July 14 at 7 p.m. Enjoy a drink and mingle with ONA friends new and old from the rooftop of the D.C. bureau's offices at 1730 Pennsylvania Ave, NW. YRSVP at meetup.com.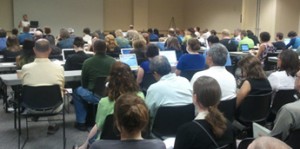 #ONACamp Live From Denver: For two years, ONA has been offering free digital training funded by the Gannett Foundation. Today we're partnering with the Colorado Pro Chapter of SPJ, the student SPJ chapter at Auraria Campus, Colorado Public News and Kapost to host ONACamp: Denver at the Tivoli Student Center on the Auraria Campus. Many thanks to all our community partners for helping us pull together this event. Whether or not you're attending the training, join us for drinks at a post-event happy hour at the Yard House from 5 – 8 p.m. Our hosts, Kapost, will buy drinks for the first 50 people. Join the Hacks/Hackers CO Meetup group for details and to RSVP. The training is sold out, but to check out the program — maybe for your area — head to journalists.org.
Member benefits
And our 2,000th member and winner of the tee is …
… Patrick Coleman of The Wrentham (Mass.) Times. Welcome, Patrick, and wear "the code" in good health.
ONA members get $200 off CleanSlate conference on tablets
Join media, advertising and publishing experts July 19 at the Westin Times Square in New York City at CleanSlate 2011: Marketing and Media in the Tablet Economy and find out what the pioneers in these industries are doing today to take advantage of the Power of the Tablet.. Speakers include Andy Ihnatko of The Chicago Sun-Times, John Kosner of ESPN Digital and Print Media, Corinne Helman of Harper-Collins Children, Liz Schimel of Meredith National Media Group and many more. ONA members get $200 off registration. Check out the full conference agenda, get the discount code at the journalists.org discounts page and register here.
Summer reading from Nieman Reports
Nieman Reports just launched its Summer 2011 issue, "Links that Bind Us," on niemanreports.org. Print issues will be out to ONA U.S. members early in July via media mail.