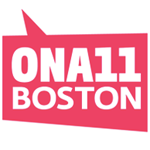 Two more weeks to submit your ONA11 session ideas
If you have a great idea for a session for the 2011 Online News Association Conference & Awards Banquet, Sept. 22-24, in Boston, don't wait. Use our Session Selector to submit proposals for consideration in the ONA11 program. Submissions will be accepted through March 8. Then, from March 9 to March 23, the digital journalism community will vote on sessions they'd like to see. Before submitting, please read the Session Selector FAQ, where we've outlined the process and expectations, then conjure up your best pitch and submit your session.
ONA Issues: Join Wednesday's live panel on digital coverage of the revolution
The revolution has been digitized — what does that mean for journalism? Join ONA for our first ONA Issues BlogTalkRadio discussion, Wednesday, Feb. 23 at 9 a.m. ET, to help us think it through. With out panel of speakers — Mohamed Nanabhay, Head of Online at Al Jazeera English (AJE) based in Doha, Qatar; Andy Carvin, Senior Stategist for NPR's social media desk; and ONA Board members Cory Haik, representing the Washington Post, and moderator Will Sullivan, Donald W. Reynolds Journalism Fellow — we'll be digging into how news organizations are covering the revolution that erupted out of Egypt in whole new ways. Expect to hear about mobile reporting tools and techniques, battling against Internet and communications blackouts, Al Jazeera's sharing content through a creative commons license, and Andy's innovative and dogged approach to curating news from the region. For more information see here.
Check out ONA's data viz session at NYC11
If you're a student or media adviser heading to NYC11, the CMA-CBI Spring College Media Convention, look for the ONA-sponsored session on Sunday, March 13: Kevin Quealy, graphics editor at The New York Times, will riff on the "Top 5 Til 5" from 1:30 to 5 p.m. (hence the title). Quealy, who specializes in data visualization, will present five rapid-fire mini-sessions all in a row. That's every 30 minutes, pausing only for questions and bathroom breaks, for 3½ hours straight. If you're an ONA member, you can attend NYC11 and save $30 to $85 — that's $100 for admission, instead of $130 (student) to $185 (non-CMA adviser). To register at the discounted rate, email NYC11 Chair Michael Koretzky at michael@koretzky.com. For more details, check out the conference where more than 1,200 college journalists and advisers converge at collegemedia.org/nyc.
ONA teams up for 'Awesomeness' at SXSW
#ONASXSW Heading to SXSW and want to attend the Awesomest Journalism Party Ever? ONA has teamed up with a crew of journalism geeks to co-host the party of the year March 13, from 4-7 p.m., at The Marq in Austin. Come mingle with our friends from Hacks/Hackers, the Poynter Institute, the Association of Alternative Newsweeklies, VisionCloud, Scribd and hear — bonus — a performance from Austin-based band Quiet Company. For more information and to RSVP, see the party website.
ONA Nashville Mobile Migration Workshop: Join ONA and our co-host, the Freedom Forum Diversity Institute, April 1 in Nashville for an all-day workshop on mobile and tablet strategies for news organizations. Speakers will include James Moroney III, President and CEO of the Dallas Morning News; Bill Tallent, CEO of app developer Mercury Intermedia, which has done work for USATODAY and the New York Times, among others; Rex Hammock of Hammock Inc., and more. The cost is $35 for ONA members and students and $50 for all non-members. For more information and to register, head to journalists.org. Not a member? Join us at journalists.org.
#ONADC heads back to Medill News Service in Washington, D.C. tonight (Feb. 22) at 7 p.m. for this month's meetup, focused on the First Amendment. The suit filed by Redskins owner Dan Snyder against The Washington City Paper was a stark reminder of its importance and we'll use that as a jumping off point for discussion. There are just a few spots left; RSVP at Meetup.com.
#ONANYC will host "Building Online Communities" Feb. 23 at 7 p.m. at the New York Times. Speakers will include NYT media reporter Brian Stelter, Deputy Interactive Editor Brian Hamman and Senior Styles Web Producer Simone S. Oliver. Admission is $5 for members and non-members alike. RSVP here.
#ONASEA becomes official for ONA Locals in the Seattle area with a meetup group. Join the group and stay tuned for details on new events at Meetup.com.
@ONAMizzou hosts its second meeting Feb. 24 at 5 p.m. in Room 100 of the Reynolds Journalism Institute building in Columbia, Mo. Our newest Student Club will be hearing from Scott Woelfel, co-founder of CNN.com and CEO of Armchair Media, who will discuss his experiences with the evolution and growth of online journalism. For more information see ONA Mizzou.
ONA discount to paidContent2011
On March 3, paidContent will look at the state of paid content with its namesake conference, paidContent 2011, and ONA members can attend at a 15% discount. This full-day conference will take place at The Times Center in New York City. Last year, senior business executives from across the content industry came together for paidContent 2010, eager to share possible solutions and find new ones for making digital content pay without pinning it all on advertising. Now the story continues at paidContent 2011. Get the discount code at the journalists.org discount page, and check out the event site at paidContent.org.
Sunshine Week issues model open government proclamation
ASNE, the organization responsible for administering Sunshine Week, issued a model open-government proclamation that can be used by citizens and community groups to fight for greater transparency in government. The "Sunshine Week Open Government Proclamation" can be adapted for local, state and federal use by open-government activists, who can use language in the proclamation to press for specific pledges and plans of actions to enhance the public's right to know. Details and a sample proclamation can be found here. Sunshine week takes place this year March 13-19, funded primarily by grants from the John S. and James L. Knight Foundation of Miami and the ASNE Foundation.