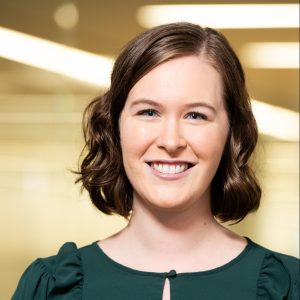 As ONA's communications manager, Carrie works with people across the organization to find and share stories about our members and their work. Her responsibilities include content strategy, event promotion, email and social media campaigns, press releases and overall editorial support.
She has spent her career considering audience needs and editorial strategy while also excelling at efficiently managing workflows and projects. Prior to joining ONA, Carrie was a digital producer at Pew Research Center, where she handled the daily editorial calendar and publishing for its blog, wrote blog posts using data-driven research and managed institutional social media accounts. She served on the Center's Inclusion, Diversity and Equity Council, where her projects included improving the digital accessibility of the Center's editorial products and scheduling training sessions on managing workplace stress.
Before that, Carrie was a multiplatform copy editor on the Express Desk at BostonGlobe.com, editing breaking news stories, writing SEO-friendly headlines and laying out the website's homepage.
Carrie has a BS in News (Journalism) with a concentration in newspaper from Kent State University. She is originally from the Pittsburgh area and now lives in the Boston area.