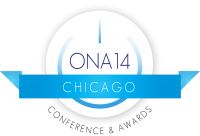 As we pulled together our annual post-conference resources, we were again blown away by all of the inspiring sessions and great energy from this year's Online News Association Conference, where over 1,900 journalists and technologists joined us in Chicago. We saw a whopping 936 new attendees and were thrilled with how our community welcomed them into the fold.
This was our largest conference to date and we're proud to say that as we've grown, our community has maintained a commitment to networking and helping each other by exploring and sharing the newest technology and practical advice to bring back to their newsrooms. Whether you come from a large organization or a small newsroom, whether your interest is in breaking news or producing news for mobile, whether you identify as a digital journalist, journalism-coder, journo-entrepreneur or media diversity advocate, we have something for you.
Please enjoy these ONA14 resources — and let us know how we can help foster more training, networking and professional development in the next year and at ONA15.
Learn more