When Tricia was selected as an MJ Bear fellow, she was a freelance digital journalist and the founding story director of "Hollow" interactive documentary.
When Tricia Fulks was a journalism student at West Virginia University, she initially had only one career in mind: that of a newspaper journalist. But in her junior year, she said, "fear set in" when she realized that her only skill other than reporting was limited pagination knowledge. "But fear is good," she said, "so I acted."
Tricia and another student co-founded "West Virginia Uncovered," a program that embeds student journalists into rural West Virginia towns to produce documentary-style multimedia projects for partner newspapers.
After graduation in 2009, Tricia interned at Sarasota magazine in Florida. She then returned to Morgantown, W. Va., and continued her work on "West Virginia Uncovered" as a VISTA worker, launching a citizen media initiative in Tucker County and planning logistics for five student training workshops.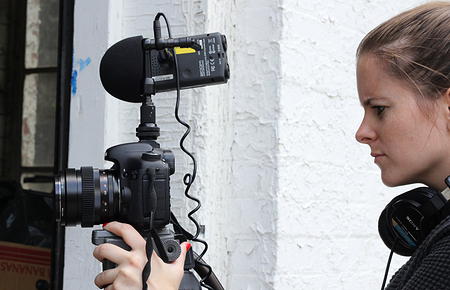 Tricia returned to print as the editor of weekly The Shepherdstown (W.Va.) Chronicle and then as city editor of The Martinsburg (W.Va.) Journal, where she said she struggled to get the newspapers to embrace digital.  So, on the weekends she worked on her master's degree in interactive journalism at American University in Washington D.C.
Tricia now works as a freelancer and serves as story director of Hollow, a startup interactive documentary and community participatory project focused on 10 communities in McDowell County, W. Va., which will launch in the Spring of 2013.
"Writing was my first passion, but that's shifted over the years. I now want to tell people's stories in the best way I can in the best medium I can. That, I feel, is the only way you can do any story justice," she says.
"Hollow" Project Director Elaine McMillion says she chose Tricia for the project "because of her passion for storytelling, her ambition as a journalist and her knowledge and enthusiasm of emerging forms of media."
"She brings critical investigation to storytelling, and an understanding of how stories get consumed and spun within a popular, digital culture," McMillion adds. "Tricia values the role of transmedia journalism and understands that the web enables an inclusiveness that linear storytelling does not. Her ambition as an independent media artist has provided her with the self-discipline and zeal needed to take on a grassroots project, like "Hollow."
The MJ Bear Fellowship selection committee said of Tricia: "She has hustle and moxie, a passion for storytelling and an understanding of how to tell stories in a non-linear way. She is an inspiration to others."