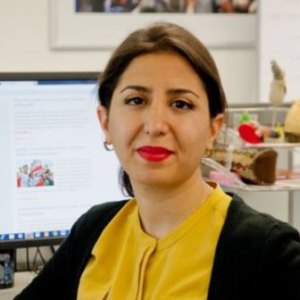 When Denise was selected as an MJ Bear fellow, she was a web writer for Radio Farda, Radio free Europe.
Denise was born in a multicultural household in Tehran, the daughter of an Azeri Muslim father and an Assyrian Christian mother. Despite the country's deeply traditional society, she grew up listening to Western music, watching Hollywood movies and learning English at a very early age. She also studied classical piano from one of the country's leading pianists.
Denise is a graduate of Tehran University, where she received a bachelor's degree in Anthropology in 2005 and from La Salle University in Prague, Czech Republic, where she received a master's degree in Professional Communications and Public Relations in 2010.
She also worked as an administrative assistant for an Iranian pharmaceutical company and as a translator for Sales and Shadan Publications in Tehran. While there, Denise translated bestselling author Laura Schlessinger's book "Woman Power" into Farsi. She also speaks Assyrian, Turkish, Azeri, English and German.
As a web writer for Radio Farda based in Prague, Denise writes daily news articles for Iranians on topics not covered in their country's domestic press. She also produces a weekly podcast on foreign cultural issues ranging from music and cinema to literature.
She has been very involved in the Radio Farda Facebook site, which unlike many major websites, she says, is not censored in Iran. The site has more than 230,000 followers.
"As a writer who confronts censorship, I have an innate understanding of freedom of speech, freedom of religion, and of course, freedom of the press," Denise says.
She adds: "We have an expression in Persian: 'You have to gather all the drops to finally have a sea.' This captures what we have journalistically accomplished and what we hope to accomplish in the years ahead."
Of her work at Radio Free Europe, Denise's editor says, "Her work is creative, thoughtful, articulate and witty. She is indeed just beginning to make her voice heard in the industry, where her work is attracting a growing readership."
The selection committee said: "Her team's work to get the news past constant threats of censorship is impressive; we are extremely impressed with her courage on freedom of the press."