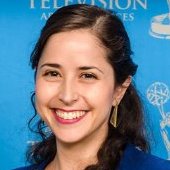 Video producer, Council on Foreign Relations
Hagit graduated from Columbia University with a bachelor's degree in Political Science and a masters degree in International Affairs. While a student, she worked as video editor of the university's School of International and Public Affairs website.
Hagit also has worked as a freelance journalist and as editor and producer of programming for Galei Zahal National Radio in Tel Aviv, Israel. She interned at CNNMoney.com in New York where she described herself as a "one-man-band" video storyteller. She is proficient in Hebrew and conversational Arabic.
At the Council on Foreign Relations, Hagit writes, produces and edits a wide variety of publications, including audio podcasts, video narratives and feature interactives, including CFR.org's award-winning Crisis Guide series. "Crisis Guide: Pakistan" received a 2011 ONA Online Journalism Award (Multimedia Feature Presentation, Small Site), Overseas Press Club Award and an Emmy nomination. "Crisis Guide: Iran" won the 2012 Overseas Press Club Award for Best Use of Multimedia and a 2012 national Emmy award for "New Approaches to News & Documentary Programming: Current News Coverage."
Her editor describes Hajit as "a gifted digital journalist and indispensable part of the award-winning multimedia team" She was the first Video Producer at CFR and "has been crucial in helping to develop the organization's online video strategy"
Hajit said: "I believe that multimedia brings stories to life. Multimedia makes a story from across the border, across the ocean, personal — and it makes it matter."
The MJ Bear Fellowshop selection committee said: "In the ever-evolving world of digital journalism, Hagit has embraced the tools and understands the challenges of producing digital content through compelling storytelling. "Crisis Guide: Iran" explores the complex historical, political and socio-cultural roots that have shaped modern-day Iran, and Hagit has worked to present difficult information through a variety of media in ways that keep readers interested and engaged."