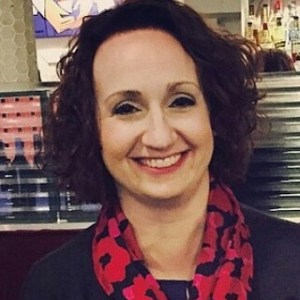 Leslie Wilkinson is senior product manager for CNN's mobile app. Previously, she was senior product manager for Cox Media Group's 10 TV stations, where she led development of the news, weather, wake up and traffic apps and push notification strategies. Leslie started managing apps while digital product manager at WRAL.com in Raleigh. Before her product roles, Leslie led the digital content team as managing editor for Turner's NASCAR.com. And, she's a veteran of print newsrooms, having held design and content management system roles at the Los Angeles Times and The Charlotte Observer. She holds both a BA in journalism and an MBA from the University of North Carolina at Chapel Hill.
---
As a candidate for the 2019-20 Board of Directors election, Leslie delivered a lightning talk at the ONA18 conference and submitted the following information. Learn more about the election process.
ONA Involvement
* ONA Conference volunteer – 2013 to present. Led Day 1 registration desk rush for 4 years
* OJAs volunteer screener – 2017 to present
* National Headliner Awards – 2013 to present. Co-lead judging panel, in 2015 transitioned the contest to an online entry system
* UNC School of Media & Journalism Board of Alumni – board member 2014 to present. Represent alumni to the School's leadership committees
* The Daily Tar Heel – 2017 to present, alumni advisor
Vision for ONA
In my 20 years in the journalism industry – a career that began in print design and is now focused on managing an app driven by video – ONA has continuously opened doors for me on both the product and content sides of the digital media business, just as it has done for others through a diverse and expanding leadership development curriculum. I want to serve the organization that leads the digital discussion across the journalism industry.
I've worked to build relationships across the content-to-business-to-technology divides in every media role I've held. I started in content as a newspaper designer during 9/11 and a few notable elections (2000 and 2008 come to mind) and worked to build content management systems at two newspaper groups. As I've moved into the business side of TV companies, I've brought that content experience with me and worked to make sure that content is front and center of all the digital products I've developed.
As an ONA board member, I'd bring knowledge of what building relationships with technology, design, product and content teams looks like at organizations large and small. I'd like to see ONA continue growing its programs to include more training about leading across the aisles of those disciplines. ONA is uniquely positioned to coach and develop journalists to lead innovation discussions, which must include business and technology partners. There are many product managers hiding in plain sight in newsrooms; the industry needs your expertise. ONA can lead the way in that training. I welcome the opportunity to work with ONA to develop programming around moving and managing between divisions.
ONA has grown its conference programming to include emphasis on video. I'd like to see that continue to grow by finding ways to bring the expertise of video and television journalists further into the digital conversations. I would bring knowledge of video development at both large networks and local markets to board membership and would use that to help boost the conversation around quality video journalism.
I've spent my career building and connecting diverse groups across media organizations; I look forward to the opportunity to continue doing so as a board member with ONA.
Sharif Durhams on Leslie Wilkinson
Leslie Wilkinson's career has taken her from designing newspapers and thinking of ways to coordinate election coverage to applying design thinking and business acumen in a successful career in product development. Throughout her transition to business school and to supporting the products that serve as the backbone for newsrooms, she always has remained deeply interested in daily news coverage.
Wilkinson not only does things well – she also does the right thing. She has served as an advisor in an effort to save the student paper at her alma mater and organized the technology behind the judging of one of the country's most prestigious journalism awards. She also has given her time to ONA as a cheerful volunteer at the convention since 2013. She has passionately advocated for diversity in newsrooms. And she has focused on solving the problem and ensuring that those around her enjoy themselves while doing it.
Throughout the more than 20 years I've known Wilkinson, I've encouraged her to work in certain newsrooms, because I knew she would make them better. I and others have urged her to run for a seat on this board, because we know she has the energy, knowledge and desire to continue giving back to an industry she loves. I commend her to you.