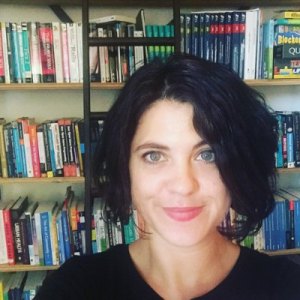 Until Dec. 2013, Jeanne Brooks directed all digital strategy, training programs, and new product development as the Digital Director ONA. She oversees programming at the annual conference, ONACamp training series, and the ONA Local program; a global network of volunteer organizers building networking and professional development opportunities for digital journalists. She is responsible for exciting new initiatives including the Midway, an experimental space for journalism and technology. Launched at the 2012 annual conference, the Midway is the place for hands-on learning and experimentation with the most innovative tech and tools in digital journalism.
With a passion for an informed public, Jeanne has long worked to provide solutions and opportunity to a changing media landscape. She came to ONA from the Media Consortium, where she organized programming and conferences for independent media professionals and consulted on digital strategy.
In 2009, she was the outreach coordinator at the Center for Public Integrity, where she directed campaigns on long-form investigations reaching audiences of more than 20 million. Jeanne also managed the digital marketing program increasing online revenue by more than 60 percent.
Prior to serving at the Center, she was the managing director of the Fund for Independence in Journalism, responsible for all operations and a multi-million dollar budget. Assisting the production of interactive investigative projects, she served as researcher, web producer, creative designer, assistant producer and communications strategist. Manager of the Fund's development program, she was part of a team that raised nearly $750,000.