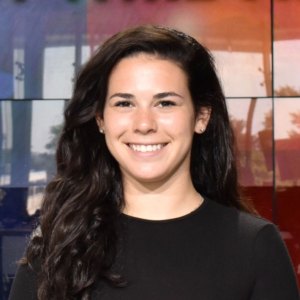 Alicia Abelson is a senior at American University in Washington, D.C. where she studies broadcast journalism and political science. Alicia previously spent five years as a freelance columnist for a local newspaper in Connecticut before attending American University and has had experience in both radio and television news broadcasting.
Alicia worked as a newsroom assistant for the local radio station WMAL where she edited audio footage, wrote web stories, and conducted phone interviews for the news department. More recently she has served as a reporting intern for DCW50, a local news station, where she aided reporters in the daily production of the 10 p.m. newscast by writing scripts or editing footage.
Alicia has also had experience in sports broadcasting as an intern for the American University athletic communications office. She will be graduating from American University in December with the hopes of becoming a television reporter and eventually a White House correspondent.