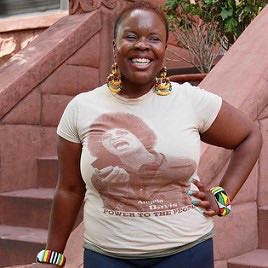 Veralyn is an award-winning journalist who has been tackling questions on identity, social norms and community since she picked up her first microphone 10 years ago. Veralyn is Managing Editor of Brooklyn Deep (BKD), a digital investigative news, analysis and data website chronicling neighborhood change in Central Brooklyn. She also co-hosts and produces BKD's Third Rail podcast, discussing social justice issues and hot topics monthly. Before BKD, Veralyn spent 6 years freelancing, producing and reporting stories for WNYC, NPR, Bedsider.org, Ebony.com, WBAI, BronxNet Television, and on her personal blog, VeralynMedia.com. Veralyn is a Board Member and Co-Founder of Telem Center for the African Child, a nonprofit providing cultural, educational and recreational programs for children of African descent to explore and celebrate their heritage. Through all of her endeavors, she aims to give a voice to perspectives that are often forgotten in the media.
Recent Work
Brooklyn Deep (BKD) is a digital journalism platform produced by people who have a personal stake in the future of Central Brooklyn. Trained journalists and untrained residents alike publish investigative news, analysis, and data that chronicle neighborhood change in Central Brooklyn and bring transparency to the exercise of institutional power.
As Managing Editor, I am responsible for supervising the production of content and ensuring its delivery on the Brooklyn Deep platform. My responsibilities include:
recruiting Brooklyn Deep's professional and citizen journalists.
executing assignments to professional and citizen journalists and editing their content.
working with Central Brooklyn residents to identify community issues they want to report and go "deep" on.
facilitating the successful launch and monthly production of Third Rail, BKD's podcast, by managing pitch meetings, booking guests, writing show scripts, and co-hosting.
editing all audio and video content generated for Brooklyn Deep, including Third Rail and BRIC TV segments.
managing the web platform for Brooklyn Deep, including podcast and video sub-platforms.
working with consultants to create BKD's marketing materials and web presence.