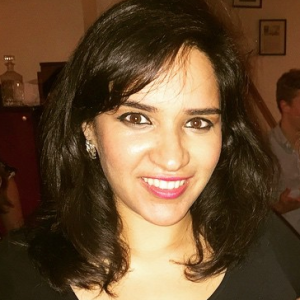 Swati is The Washington Post's Foreign Digital Editor, coordinating cross-departmental efforts to maximize the speed, reach and visual impact of international coverage. She helps to manage the section's blog, WorldViews, coordinates the digital presentation of the foreign staff's most ambitious projects, and leads the desk's efforts to increase global-audience engagement. She joined The Post in 2013 as the Deputy Digital Editor in the opinions section. She was formerly at the Boston Globe, where she covered nightlife, hyperlocal news and coordinated the live blog coverage of the Boston Marathon bombing, which was cited in the Globe's Pulitzer Prize for breaking news. Swati loves to travel, speaks Hindi and is a voracious consumer of international news – as well as a passionate fan of Indian cinema. She grew up in northern California and is a graduate of Northeastern University.
Recent Work
The Post's coverage of the migrant crisis
The refugee crisis engulfing Europe proved to be one of the biggest news stories over the past year. Our team had to figure out not only how to properly tell the stories of those fleeing war and poverty, but also how to reach a diverse audience. I served as the project manager on one of The Post's most ambitious projects of the year: the story of a Syrian family who migrated to Hungary. Interactive maps made readers feel as though they were right alongside the family. A photo presentation served as a "trailer" to the story, which we created as a unique way to draw in viewers. While the project was undoubtedly a landmark for The Post — showcasing some of our strongest reporting, writing, graphics and visuals — it was simply one story. I made it my goal to expand the breadth of our coverage — to create stories on social media platforms, to have explainers that helped readers understand why Syrians and other refugees were leaving their homes, and to commission compelling graphics that explained the history of this mass exodus.
To accomplish this, I implemented several key maneuvers:
Guided our correspondents on the ground to tell stories on different platforms using Facebook chat, video, Twitter and Instagram.
Beckoned our writers into one (virtual) room: We had eight correspondents and writers covering the refugee news as it unfolded. To connect with readers and help them understand who them understand the magnitude of this story, I organized a Facebook chat with all eight reporters (who were located around the world and covered the refugee crisis from Lebanon, Germany, Hungary, Iraq, Washington and the Czech Republic), a chat which was hosted on The Post's Facebook page.
Experimented with different means of reaching audiences: I tested a Flipboard magazine of our coverage, a Twitter moments package of our correspondent's tweets and photos, while working with people at both organizations to promote our unique offerings.
Commissioned explainers and graphics to breathe life into the story: The explainers helped show why this crisis was happening now, while our graphics team created robust packages that broke down the numbers. Meanwhile, I gave our correspondents a set of questions to ask refugees and created mini profiles in a blog post, helping to further humanize the exodus.
The final result was a stunning, powerful package on the refugee crisis that hit Europe and a project that serves as one of my proudest moments as a journalist. What I learned is that we have a gift right now that we must continue to work to leverage: People truly care about the news. We simply have to unlock creative, intelligent ways to tell these stories that are begging to be revealed. That's what I hope to continue to do as I keep following my mission.