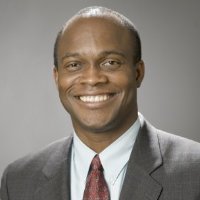 Rob King serves as Vice President/Editor-in-Chief in ESPN Digital Media. He's currently responsible for supervision of all content and the overall editorial direction for the leading portfolio of digital sports properties, including all text, audio, video and multimedia content.
Rob joined ESPN in 2004. He served as a senior coordinating producer in the studio production unit, responsible for (at various times): ESPN's award-winning NBA studio programming; the award-winning Outside the Lines; ESPN's on-location coverage of major golf events, including the Masters and the U.S. Open; and ESPNEWS, the nation's only 24-hour sports news television network.
Before joining ESPN, Rob was in the newspaper business. From 1997 – 2004, he was at the Philadelphia Inquirer, serving as graphic artist, deputy sports editor, assistant managing editor and deputy managing editor. Prior to that, he worked at the Louisville Courier-Journal as a graphic artist, director of photography and presentation editor. From 1987 through 1992, he worked at the Courier-Post in Cherry Hill, N.J., a major suburban Philadelphia paper. His first job was with the Commercial-News in Danville, Ill., as a general assignment reporter and graphic artist.
Rob graduated from Wesleyan University with a degree in English.
He is an active member of the Online News Association, the Associated Press Sports Editors, and the National Association of Black Journalists. He's also a former cartoonist.