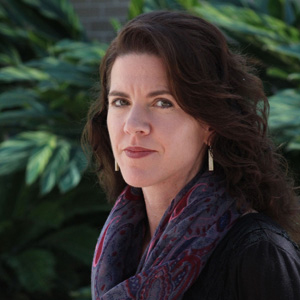 Jenny Moore is the founding director and academic coordinator for Jaguar Student Media at Texas A&M University-San Antonio. She oversees the fiscal, managerial and daily operations for The Mesquite, a student-produced digital news site; El Espejo, an annual print magazine; and the radio and television programs at Univision Media Lab–Capstone Experience at KWEX/Ch. 41.
Drawing on 10 years industry experience, Moore shifted to higher education in 2008 to set the vision for an innovative media program designed as a competitive training ground and career preparation model for minority students. Using a hands-on experiential learning model, she collaborated with the Texas A&M University System to launch English and Spanish media labs that are responsive to market needs and encourage media collaboration and innovation between students and professionals.
Her nationally recognized Media Fellows Program provides university-funded training opportunities and mentorship for students to gain the necessary skills, experience and portfolios to enter entry-level industry positions. Moore has received regional and national distinction for her academic and media initiatives directly responsive to the needs of under-represented populations and first-in-family college students. Her research focuses on best practices in journalism education for minority students, and changing models of newsroom mentorship for under-represented populations.
Plans as an ONA Journalism Mentorship Collaborative Fellow
Univision-41 will establish a mentoring program to provide employees the tools and resources to help students leverage their career opportunities. During the fellowship period, we intend to:
Partner with university resources, including the university's Experiential Learning program to design and host mentorship trainings at KWEX
Establish a handbook for employees
Propose our model for conference opportunities at ONA18
Promote the work of ONA's Journalism Mentorship Collaborative and our specific results to the Journal of Experiential Education, AEJMC, and other applicable journals and publications.
Long-term mentorship program goals
Long-term goals for developing a mentorship program at Univision's Media Lab include developing a training program, handbook and evaluation method. The mentorship program will provide Univision employees advice and direct assistance to effectively support and train students who are enrolled in the competitive internship program. To support our recently launched university-corporate partnership, we intend to support Univision's educational goals by leading, structuring, and overseeing the mentorship program for mutual benefit. The mentorship program addresses market need and will help KWEX employers identify prospective employees, as well as participate in shaping the talent pool by actively participating in the mentorship program.