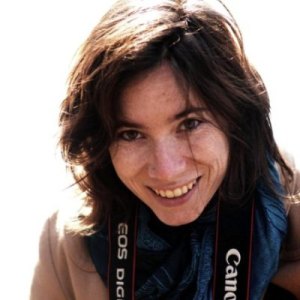 Profile as a 2016 MJ Bear Fellow
Rose created Flash Forward, a podcast that explores possible tomorrows. The show is a quirky mashup of science fiction and journalism. Each episode starts with a fictionalized radio drama and then dives into a serious discussion of the subject with historians, engineers, scientists, futurists, etc. As she explains, "Think 'Hitchhiker's Guide to the Galaxy' meets Radiolab."
"One of the reasons I think Flash Forward is unique is that I bring a specific worldview to the show," she said. "Outside of the podcast, my reporting is largely on the hidden biases that exist in science and technology — like artificial hearts and prosthetic legs that are made for men not women, or facial recognition systems that can't see people of color, or genetics projects that ignore a history of scientific racism. And on the show, I try to bring that same kind of scrutiny to topics that are often left to the white-male dominated realm of futurism.
"… among the gifts Rose offers journalism is imagination and a long view into the future."
"By combining audio fiction and audio journalism, Flash Forward engages people in science in a new way that other forms of science journalism often struggle to do. People who never liked science before, write in to say they love the show. People who are scientists write in to say that it makes them think about their work differently. The combination of fiction and fact, the added multimedia and bonus elements, and the fan participation in the show, makes people really feel like I'm building a whole world at Flash Forward, not just a podcast."
The MJ Bear Fellowship Selection Committee said, "Straddling the bright horizon between science and science fiction, Fast Forward is an engaging and informative podcast about how we live in and imagine the future. As creator and host of this solo project, Rose is not just shaping an imagined future, but her own. With Flash Forward she has shown creativity and flair, packaged with deep reporting, thoughtful engagement, and smart questioning. Most notably, among the gifts Rose offers journalism is imagination and a long view into the future."
Said her recommender Annalee Newitz, tech culture editor at Ars Technica, and former editor-in-chief of Gizmodo.com for which Rose produced a podcast on the future: "What makes Rose such a terrific podcaster is that she combines both scientific and cultural analysis to bring her futures to life. The results were nuanced, meaty episodes that often began with a simple or bizarre premise and led her listeners into thinking about their own lives and where our civilization might be headed. It's so rare to find futurism that combines intelligent speculation with mind-bending ideas, while also maintaining a healthy sense of humor."
Rose has been a freelance writer and producer since 2011 when she received a Master of Arts degree in Journalism Science (Health and Environmental Reporting Program) from New York University. She also has a Bachelor of Science degree in Ecology, Behavior and Evolution, with a minor in Literature and Writing.
She is a columnist for Motherboard and BBC Future and produces a podcast for The Story Collider. Previously, she was editor of Smithsonian Magazine's Smart News, Acting Technology Editor at the Atlantic, Special Media Manager for Nautilus Magazine, Managing Editor at LadyBits, script editor for TED Education, product coordinator for Minute Earth, intern at Scientific American and Radiolab and Editor-in-Chief and Special Projects Editor for NYU's Scienceline. She also taught a semester of science journalism at CUNY's graduate program in journalism.