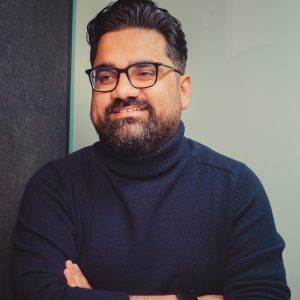 Nasr ul Hadi is a Knight Fellow with the International Center for Journalists (ICFJ).
He is also founder of PROTO, a media development studio that uses community development → applied research → cohort training → embedded consulting, to instigate innovation and experiments across news ecosystems. Since 2019, these programs have helped more than 1,000 media professionals from 250+ organisations and 30+ countries build skills, projects and networks — in partnership with big tech, global foundations, UN agencies, top J-schools, among others.
Hadi has also led C-level collaborations with over a dozen of India's best known legacy and startup news brands, on everything from redesigning workflows and setting up (award-winning) verticals, to pioneering modular/structured content projects and trying out new technologies, even helping hire for bridge roles and top management. He defined parts of the vision for India's first philanthropic fund for journalism, first accelerator for media startups, and first SaaS CMS for digital-only newsrooms. Some of his work is the basis for publications by mediatech, think tanks, universities, even policymakers.
He shares these learnings on new media products and entrepreneurship often, at leading news industry conferences and postgraduate/mid-career programs across the Americas, Europe, Africa, the Middle East and the Indo-Pacific.
Nasr's vision for the future of digital journalism
"Most of what's shared as heartwarming stories are temporary, small-scale responses to systemic failures. I wish making structural changes to systems were as inspirational, but does our culture know how to tell those stories?"
Paraphrased from a 2019 tweet by Glitch's CEO Anil Dash, these lines are the opening slide on all my work presentations. They help keep my audience patient, at least till I'm halfway through selling them on projects that aren't enough about the scale-chasing we fetishise, but way too much about sustainable and replicable change that is hard yet foundational.
Like professional communities in infotech, design, entrepreneurship, and other sectors in permanent beta, innovators in journalism too need to (re?)build infrastructure that helps us colearn and collaborate as both regional and global ecosystems, especially around immediate industry/society-scale challenges like sustainability of news media and countering of misinformation. We need to incubate and catalyse:
• autopsies of failures and case studies of successes,
• organised pooling of knowledge into community commons,
• recurring and incremental upskilling interventions, and most importantly
• hubs of services and experts that can be shared across small newsrooms.
Reimagining can't be about how we deliver these around a specific challenge. It needs to be about how we use these (and systems thinking) to improve our overall approach to any and all challenges. We need our most progressive industry platforms to serve as makerspaces for newsrooms that can't afford a. resources for in-house development of talent, or b. fallout of risky experiments. Our communities of practice need to work as "connective tissue" that's as resilient to news' cycle of tectonic shifts, as the Japanese are to earthquakes.
We also need to work with innovators in other disciplines. For instance, behaviour scientists can help us better understand and engage audiences. Service design pros can help us ask better questions, improving both the external and internal experience of news. Interdisciplinary engagement with allied professionals will help us share ideas, skills and resources, even achieve tangible and incrementally productive collaborations.
Everything we do should be framed as an opportunity to move the needle on (crises in) media's credibility, adaptability or sustainability. Note that these dimensions map back to the teams that make up a newsroom — editorial, production and product — and are a considered effort to bring these silos into the same conversation. Also, these aren't about directly supporting journalism. Instead, the focus is on journalism's plumbing — the practices and processes that, if improved, could help journalism cut wider and deeper.
I firmly believe that move fast and break things makes journalism a graveyard of experiments. Slow but steady allows us to be strategic, deliberate and consistent, and gets us relevance, depth of connection, expertise, lasting impact and all that other good stuff along the way. It's how the most successful vertical media are made. It's also how communities last.
Previous ONA Conference Sessions
*additional resources listed below