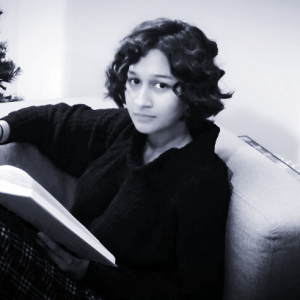 Maaisha Osman is a graduate student of Journalism from Boston by way of Bengal. She has written for Storybench and Scope. She wants to become a documentary filmmaker reporting on human rights, social, cultural, health, environmental issues and sectarian conflicts.
As a journalist, she would like to give voice to those who have none. Recently, she has been mostly involved in writing feature stories on vulnerable communities affected by the pandemic which includes, children in the autism spectrum and their families', grassroots organization like Boston Independent Drivers Guild and Massachusetts Nurses Association.
Currently, she is focusing on writing a feature story on the stigma behind migraines and producing a short film on a Cicada Coffee Bar: Two rebel architects turned into food designers.
A lifelong cinéphile, she is also working on a book of essays about her favorite directors like Ingmar Bergman, Andrei Tarkovsky, Satyajit Ray, Rwitik Ghatak, François Truffaut, Wong Kar-wai, and others.
During free times, she likes to get lost in nature…