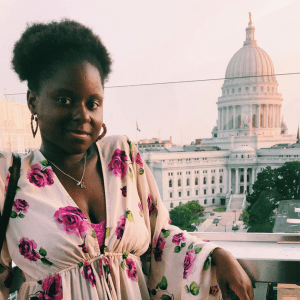 Kynala Phillips is currently a First Wave and Urban Arts scholar at the University of Wisconsin-Madison in the School of Journalism and Mass Communication. She has spent much of her academic career trying to hone in on her writing skills in various mediums. She was introduced to journalism by way of poetry and storytelling. During her undergraduate career she has interned for places like Madison365.com and Wisconsin State Journal. This past summer she participated in the American Society of Magazine Editors summer internship program where she also got an opportunity to intern at ESSENCE Magazine. This spring Phillips also was named one of ProPublica's Diversity Scholars.
After receiving her undergraduate degree, Phillips is interested in researching the relationship between identity politics and media. She is always looking to better understand how information informs our lives and perceptions of identity.
Outside of class and work, Phillips is the co-editor in chief of The Black Voice and is a proud member of Delta Sigma Theta, Incorporated. Phillips is a Pinterest-enthusiast, loves dancing obnoxiously in public and is passionate about working with youth of color.