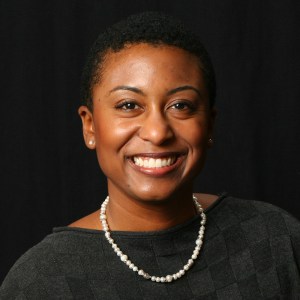 Ebony Reed is director of innovation and the RJI Futures Lab, which is comprised of a team of digital experts who partner with news companies to create programs, prototypes and tools to help journalists. The team has a strong concentration on visual projects, data/development/coding and video operations. The lab's web series – Innovation In Focus, which launched in January 2018 was a 2018 Editor & Publisher EPPY award finalist in the innovation category.
Reed is also an associate professor at the Missouri School of Journalism. She teaches in-person and online classes in media sales and media management. She also coordinates the RJI Student Competition, which brings together journalism, engineering and business students to build prototypes to test technology and solve problems in journalism.
Reed has worked for both the business and editorial sides of journalism. She came to RJI from the Boston Business Journal, where she was executive advertising director.
She spent more than six years with The Associated Press, first as an assistant bureau chief, and later as director of business development for U.S. local markets. As director, she worked with AP directors across the country to find digital and commercial opportunities for the AP.
Prior to moving to the business side of journalism she held editing and reporting roles at The Detroit News and The Plain Dealer in Cleveland.