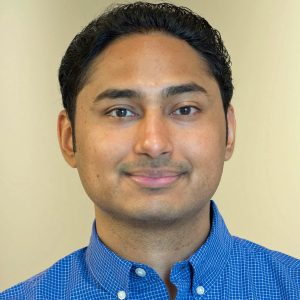 Vignesh is a founding member of ProPublica Illinois, the nonprofit national news organization's first regional investigative newsroom.
"My focus is on how our storytelling presentations and visual tone can be developed to build our presence in Illinois and cater toward the unique needs of our local audience," he says. "We are inherently experimental — and an experiment ourselves — taking ProPublica's national investigative model and scaling that to the state level."
Those experiments, he says, include:
Building a visual voice that is distinctly "Illinois," and not just a midwestern stereotype. To do this he has commissioned photos and illustrations from Illinoisans across the state.
Teaming up with colleagues to create visual standalone versions of investigations optimized for low-bandwidth mobile devices. An example is an investigation into Illinois' Department of Children and Family Services which has been holding children in psychiatric hospitals beyond medical necessity.
Experimenting with editorial illustration, such as thematic representations, explanatory visuals and literal subject depictions.
As the first regional ProPublica site, Vignesh says he hopes their initiatives will help create a model for subsequent local operations.
"I believe sharing our experiences and exchanging visual ideas with the wider journalism community can help us all expand our audience reach," he says.
The MJ Bear Fellowship Selection Committee said: "With sharp editorial judgement and a strong sense of community, Vignesh's skills as a visual journalist position him to make an exciting impact on ProPublica Illinois. We expect his work in the next year to develop a visual voice that is distinctly 'Illinois' and to focus on mobile platforms for storytelling to set a high standard for ProPublica Illinois and hope that his willingness to experiment and play continues to flourish."
Said his recommender Louise Kiernan, editor-in-chief of ProPublica Illinois: "Vignesh has worked across our newsroom to commission more than a dozen photographers and illustrators to help tell (stories) visually. He brings to that task a commitment to hiring people who reflect the diverse communities and cultures of our city and state, which has strengthened the work and helped establish our organization as one striving for accurate representation. Vignesh also initiated and leads our newsroom mentoring project with young aspiring journalists from Chicago's West Side."
Prior to his current position at ProPublica Illinois, Vignesh was managing editor of Stanford's local news startup Peninsula Press in Palo Alto., and a founding member and journalism program manager for the Stanford Computational Journalism Lab.
He is a graduate of the University of Colorado where he received a bachelor of science degree in Broadcast News Journalism and of Stanford University where he received a Master of Arts degree in Journalism.
Vignesh also contributes to the Stanford Open Policing Project, an interdisciplinary effort to help researchers, journalists and policymakers investigate and improve interactions between police and the public. He is also a co-organizer for the ONA Chicago group, helping plan workshops and build the Chicago digital journalism community.