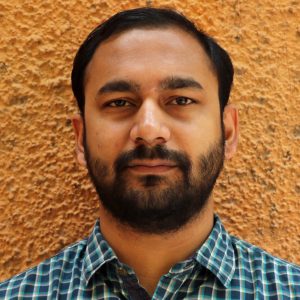 Anand has combined data with visualization to tell stories in new ways at Scroll.in, a small independent news website in India.
Initially, the focus was on the mechanics of sports stories, the first being a look at India cricket player Harmanpreet Kaur's nearly golf-like bat swing, which led to an examination of Roger Federer's serve.
"It was simple, shareable and helped us find an audience," Anand explains. "Because most of our traffic came from social platforms, we did this kind of storytelling exclusively for distributed platforms."
But these projects took a lot of time, so Anand said he and his fellow staffers also decided to focus on numbers and visualizations to tell stories, such as this one about Spain's Rafael Nadal's dominance in clay court tennis and another on how the Indian cricket captain kept changing his starting lineup.
"Indian sports audiences were used to number crunching, but not data visualisation, let alone storytelling," Anand says. "And we also tapped into a mature audience which typically read western news outlets for visual journalism. Our niche sports section, The Field has now developed a reputation for doing data focused stories."
But Anand hasn't just focused on Sports stories. He's expanded the data/visual storytelling approach into other areas such as an investigations of bank frauds in India and how much time does Narendra Modi, India's prime minister traveling.
When he first joined Scroll.in in June 2017, Anand was working with a staff primarily composed of former print journalists. Now, he is working with reporters on a daily basis, helping them tell their stories more visually.
"The main objective is to produce distinctive storytelling and elevating Scroll's already excellent reportage to new audiences. This involves challenging editors and reporters to think well outside the box," he says.
"Although, I am nowhere close to achieving what I believe will be adequate change in the newsroom, the changes are slowly beginning to show," Anand says. "The confidence in reporters to do this sort of work has finally begun to take shape and hopefully within the year, they'll also learn to tell stories for digital audiences."
The MJ Bear Fellowship Selection Committee said, "Anand's work is imaginative and sophisticated. While his project started with sports, we like that his techniques of combining data and visual journalism to tell stories has evolved into other areas of news coverage. Equally impressive is how, in little more than a year, he has changed the way a mostly print-trained staff is looking at telling stories."
Said his recommender Durga Raghunath CEO Digital, Indian Express Group, who recommended Anand for his current job: "Inspired by his execution more of the newsroom started thinking about how to use his skills and he was drawn into larger projects that helped sports and other beats produce some excellent experiences…..Anand is a consistent problem-solver. He keeps wanting to do things better and constantly learns from the open internet. He is wonderful at adapting what's out there to an immediate journalism gain. While he may not solve journalism interaction with one big idea he will solve it with several small ones – which to my mind, is one of the most effective ways to work in an industry that sees constant change."
Prior to his current position at Scroll.in, Anand was news applications head at the Hindustan Times, a data and visual fellow at Vox.com and a co-founder of The 545, a website focused on the general elections in India.
Anand is a graduate of St. Xavier's College, Mumbai, India, where his received a Bachelor of Arts degree and of Columbia University School of Journalism where he received a Master of Science degree.