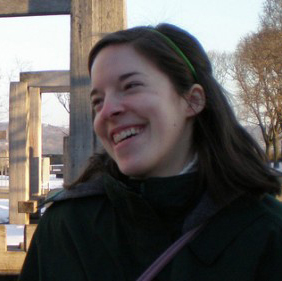 As an AP-Google Scholar:
Current school: Georgia Institute of Technology
Year in school: 1st year graduate student
Age: 25
Growing up, Rebecca thought a newspaper consisted strictly of comics and Dear Abby. She would read only the pages that included those sections each morning while eating a bowl of cereal and go off to school considering herself a well-informed citizen.
It wasn't until an almost embarrassing amount of time later while she was taking a design course through the journalism school at the University of North Carolina at Chapel Hill that Rebecca grasped how fundamental the field is to our society, how we are innately a culture of storytellers. In 2008 she graduated with a major in visual communications, intent on embarking into the world of newspaper design. Just, coincidentally, as the newspaper industry fell into rough times.
Some cynics contend the newspaper will eventually meet its demise, but Rebecca thinks that's overstating things. She was most recently a designer for CNN.com, working with news teams to build interactives, developing presentation strategy and partner pitches, and assisting with redesigns and special page launches. During that time she realized that journalism is a rapidly evolving field full of promise amidst the tumult.
In the fall of 2012, Rebecca went back to school to study in the Digital Media Master's program at the Georgia Institute of Technology, pursuing interests in visualizing information and storytelling through the online platform. She believes all types of news – even the comics – are important and must be communicated with care as we use them to navigate our complicated world.
The proposal
"I am undertaking the project of examining how recipients of select Oscar awards express their gratitude. For years, the Academy Awards has been an internationally televised, must-see event, where the honorees are chosen by their peers and accept their award in front of the very people that supported them. Winning an award marks the acme of a star's career, and no matter how well trained an actor may be, it is easy to arrive on stage unguarded, emotional, and very much human. I will be taking the transcribed acceptance speeches from the Academy Awards public database and analyzing them for patterns. The final product will be an online interactive data visualization that depicts an evolution of Oscar acceptance speeches over the years."
---