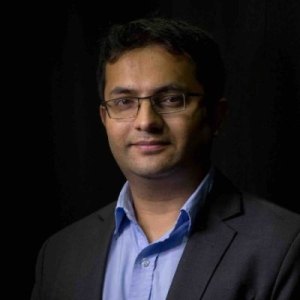 When Rajneesh was selected to be an MJ Bear Fellow, he was an independent multimedia journalist in Nepal.
Rajneesh received a diploma in multimedia journalism from the Konrad Adenauer Asian College of Journalism in Manila and his Master's in Journalism from Tribhuvan University, Kathmandu, Nepal.
Rajneesh started his career as a television journalist with a leading Nepali broadcaster. He also worked as multimedia editor for Think Brigade.org, where he edited the work of 35 international journalists and taught journalism at Kanjirowa National School. Rajneesh has done research on the convergence of media and the mobile revolution in Nepal, and he published an iPad book on autism. He regularly contributes to various regional and international media, including The New York Times, Asia Calling, IPSTV, CCTV and others.
Currently, Rajneesh coordinates Media Gufa, which requires journalists to be isolated in a room for 72 hours to report news stories using only social media and another group of journalists to report stories from a rural area without using the internet. He also is working as data editor on an investigative project launched by Transparency International, teaches journalism at WLC College, Nepal, runs multimedia workshops for national and international organizations, and is working to improve digital literacy in Nepal by training young people in rural areas how to use digital tools.
"As the Coordinator of Media Gufa, Rajneesh has inspired, mentored, mobilized a large number young Nepali journalists interested in new media," said Dharma Adhikari, General Secretary of Media Foundation, Nepal. "Above all, he is a service-oriented professional, always eager to use multi-media for social change in Nepal. His Rural Television initiative is one shining example of that."
"My prime goal is to produce long features and in-depth multimedia stories for national/international publications using the latest multimedia tools and techniques," said Rajneesh. "The use of interactive tools for storytelling will surely help to contribute to the future of online journalism in Nepal and the rest of the world."
The MJ Bear Fellowship Selection Committee said: "We like that he is working to overcome the many challenges in a developing country to raise the profile of digital journalism and capitalize on the growth of mobile. He's led some interesting projects and community journalism efforts that we think would really resonate with MJ. We think she would love his entrepreneurial approach to raising the profile of journalism and trying to solve the challenges for journalists in his county."