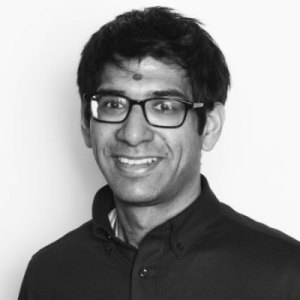 As an AP-Google Scholar:
School: Columbia University
Year in School: Graduate Student
Age: 23
Nilkanth has always been in love with programming. Since the day he was taught the glory of the "div" tag, he has never lost faith in the unlimited potential of good, clean, responsive code, regardless of its application. While completing his undergraduate degree at Columbia University, he joined the online section of the college's daily newspaper, the Columbia Daily Spectator. There, he designed and developed the paper's website, picking up plenty of coding experience along the way.
It was also at the Spectator that he first witnessed the fundamentals of journalism at work, and began noticing opportunities to use his passion for programming to improve and enhance the way we report and tell stories. During his senior year, he interned at The New Yorker in the web department, and upon graduating, worked full time in the magazine's production department. Using his prior knowledge of coding and web development, he helped automate workflows and assisted in testing and development for the publication's applications and digital editions. He was also heavily involved in the weekly production process for those digital editions, as well as the print magazine.
In fall 2013, he is set to begin the dual M.S. degree program at Columbia University's J-school, where he'll study computer science in tandem with journalism.
The Proposal
Journalists have always been able to find amazing stories to tell, but even with today's technology, they rarely have the tools to narrate them visually. Content management systems have yet to catch up with the evolving needs of journalists. What results is a desperate need for innovation in reporting tools — today's options pit style, substance and serviceability against one another. For the average writer, services like Tumblr are easy, and for the most part, effective. But what of the longform storytellers who prefer to narrate with graphs and video? Even in my own reporting, I've found great difficulty in finding quick ways to make the format's messages and content stand out.
The solution is a beautifully designed service that allows reporters the ability to enhance their stories with multimedia, charts, data-driven visuals and stunning photography, all with the customizability today's most successful long-form journalism demands. Lightweight publishing models are slowly becoming a staple of web publications, but only for those able to support the necessary design and development work themselves. This has to be easier. Publishing is in need of a resuscitation, and it has arrived in the form of multimedia storytelling. In the words of data visualization pioneer Edward Tufte, "we shouldn't abbreviate the truth but rather get a new method of presentation." There is no need to shy away from telling stories that are too complicated for words — numbers are here to help, and they can transform this industry's potency.
Q&A
Hometown: Rochelle Park, N.J.
Current location: Brooklyn, N.Y.
Current gig: Editorial Production Associate, The New Yorker
Six-word memoir: Responsive code: for one, for all
Quick-and-dirty resume: Online Editor at the Columbia Daily Spectator, automation expert at The New Yorker.
Favorite fictional character: Henry Skrimshander.
Why did you choose to get involved with online media?
It was a no-brainer, really. I always loved programming. It was one of the strongest reasons I was swayed to engineering as a college major. But, as I mentioned, I also loved writing, and storytelling. When I saw the opportunity to marry those two interests, I immediately jumped at the opportunity.
Your application mentions you like to "break" things. What does that mean?
I think the best way to truly learn how something works is push it the edge — see what it takes to crash it, break it, get it to stop working. Then, take a step back, evaluate what you've done, and assess why it happened. That whole process, of re-building, re-creating, teaches you a lot about how programming works, and its limitations.
Your project aims to help provide journalists with tools to narrate their stories visually. How will this be different than some of the other tools currently out there?
There are a few other projects out there that aim to help reporters narrate visually, but few that visualize their narration. What I mean by that is that data is often overlooked as a potentially beautiful component to the future of journalism; it falls by the wayside because few understand how to treat it on a screen. Excel, charts and graphs are one way, but interactive news is the right way. I want to build a product that takes data and makes it interactive, with hover states, click states and even tactile responses. I want that process to be easy. The tool I hope to create can do all of that and produce something that is responsive, and looks terrific on any screen, of any size, on any operating system.
What is DoesCongressReallySuck.com? What prompted you to work on this project?
It was prepared originally during Bicoastal Datafest 2013, a "hackathon" of sorts, geared toward big data projects. I think one of the caveats of forward-thinking interactive design is the tendency to emphasize the quantity of data over the simplicity in design. I think good data projects understand that an audience can only consume so much information at any given time, and are organized to be easily comprehensible and clean.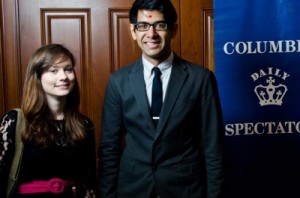 Your application mentions you come from a home where English was used only for the sake of communicating with the "outside world." How did you develop your interest in journalism?
It happened in college, really. That's when I began to seriously consider journalism as a career. I always loved writing, but I never found a great outlet for it. After I joined the Spectator, I was surrounded by like-minded individuals who shared this passion for producing a product they could be proud of. I think journalists are some of the most passionate people in the world. Seeing that firsthand in the dedication and spirit of my peers made me want to be a part of that community.