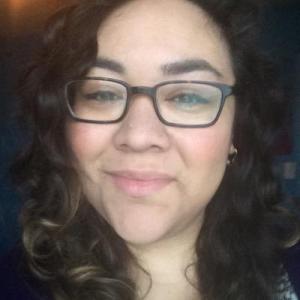 Nadia led the creation of an interactive database of undocumented migrants who have died crossing the harsh terrain of Brooks County, Texas, on their journey north. The remains are being examined by a team of volunteers from Texas universities who are working pro bono to help return them and their belongings to their families.
"It's my hope that, though this project, my newsroom and the public will gain a better understanding of who these people where, why they made this journey, why they died and how the county is impacted by their deaths," she said.  "My goal is not only to be a better digital journalist, but to be a leader in helping reporters and editors alike in my newsroom be more effective storytellers by integrating digital elements."
Said the MJ Bear Fellowship Selection Committee: "Having grown up on the U.S.-Mexico border, Nadia calls this an 'intensely personal' project. But her work goes far beyond that. By painstakingly building a database of the dead, she is telling the larger story of hundreds of undocumented migrants who might have been lost to history. The combination of her limited resources and limitless tenacity pushed this project over the top."
Nadia's recommender, Caller-Times Digital Producer Sarah Tulley, said: "I know from working with her on numerous projects that she uses every resource available to her to help work on, enhance and promote her reporting. She is always looking at new trends in digital reporting and how those trends can be applied to what she's working on. Her passion for reporting and commitment to giving a voice to the underserved is why strongly encourage you to select Nadia as an MJ Bear fellow."
Nadia is a graduate of the University of Texas-Pan American, where she received a Bachelor of Arts degree in Mass Communications in 2012. She was a freelance reporter for the Progress-Times in Mission, Texas, and a copy editor at The Monitor in McAllen, Texas, before joining the Caller-Times in 2013.
While a student, she served as an editorial intern for the Scripps Howard Foundation in Washington , D.C. and the Texas Valley Communities Foundation – Encore, in Mercedes, Texas. She also was a reporter and editor for The Pan American weekly student newspaper at her university.
She received a Climate Change Journalism Fellowship from the International Center for Journalists/United Nations Foundation and a Bringing Home the World Fellowship from the International Center for Journalists, which recently took her to Mexico, where she was able to further her immigration reporting.