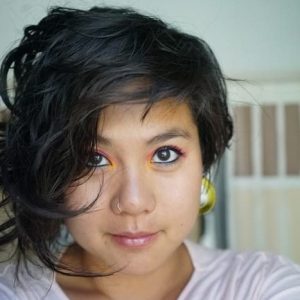 Lam Thuy Vo is a multiplatform storyteller and interdisciplinary journalist currently working as a senior reporter at BuzzFeed. She also works as adjunct faculty at the Craig Newmark Graduate School of Journalism at CUNY.
Previously, she worked for The Wall Street Journal, Al Jazeera America, and NPR's Planet Money. A multi-hyphenate by choice, Vo works as a designer-coder-videographer-photographer-writer and tells stories, mostly about technology and society, economics, and social issues.
In her spare time, she makes data visualizations with emotional data and produces fancy audiovisuals.
She is also a parttime journalism educator and is particularly interested in bringing digital data mining and storytelling to communities that are often underrepresented in newsrooms at major organizations.
She has taught at conferences and workshops put on by the Asian American Journalists Association, the Native American Journalists Association, the National Association of Black Journalists, and the Online News Association, among others, and has led hands-on workshops for journalists in places as far-flung as Nairobi, Kenya, Yangon, Myanmar, and Karachi, Pakistan.