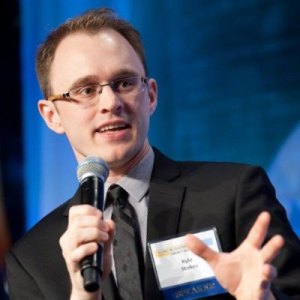 When Kyle was selected to be an MJ Bear fellow he was a reporter at StateImpact Indiana, a collaboration of WFIU and Indiana Public Broadcasting.
Kyle is a graduate of the University of Missouri, where he received bachelor's degrees in Convergence Journalism and Political Science. While in college, he worked for the NPR and NBC affiliates as a reporter and anchor. He also produced an experimental, documentary on the recession and interned with Reuters in Brussels and at the NBC affiliate in Rochester, Minn.
Following graduation, Kyle Joined WFIU, an NPR station in Bloomington, Ind. He was a member of the team that launched StateImpact Indiana, one of six NPR member projects that focus on how a particular issue affects people and communities.
His work has won Edward R. Murrow and Public Radio News Directors Incorporated (PRNDI) awards and he has been a finalist in the Society for Professional Journalists (SPJ) Best of Indiana awards.
"I see myself developing traditional journalism organizations' capacity for not only reporting news online but in developing authority and presence in online communities," he said. "I believe explanatory journalism is just as important as enterprise journalism in achieving that goal."
The editorial coordinator of StateImpact for NPR said, "Kyle is perhaps the very model of what the StateImpact project aims to produce: A new generation of public radio reporters who are as comfortable blogging, tweeting and data visualizing a story as they are producing the sound-rich audio stories NPR is traditionally known for. To have one Kyle Stokes in public radio is a gift. To have Kyle training more reporters to think and work the way he does is even better."
The MJ Bear Fellowship Selection Committee said: "Education news exciting? Leave it to Kyle Stokes — the reporting, blogging, tweeting, data-viz-ing journalist at Indiana's StateImpact — to make his beat come alive. His charming videos are so clear they've been used in classrooms and budget meetings. His recommender wrote that while Kyle is a multi-platform journalist, he stands out for this reason: Kyle strives for clarity and depth regardless of format. We agree and think he is someone to watch."